The PS2 has cemented its legacy as one of the most beloved and recognisable consoles ever made, with a library that boasts thousands of games. Granted, not all of those games can live up to the incredible legacy that the PlayStation 2 now holds, but one genre that made a home for itself on Sony's flagship console deserves so much more respect and that's racing games.
Despite the fact that the PS2 is home to many incredible racing games, they're often overlooked in favour of games like Silent Hill 2, GTA: San Andreas and others, which might have captured the imagination of more players. Still, that doesn't mean that the PS2's greatest racing games shouldn't be celebrated. With that in mind, here are the best PS2 racing games ever made.
The Best PS2 Racing Games
15. Crash Nitro Kart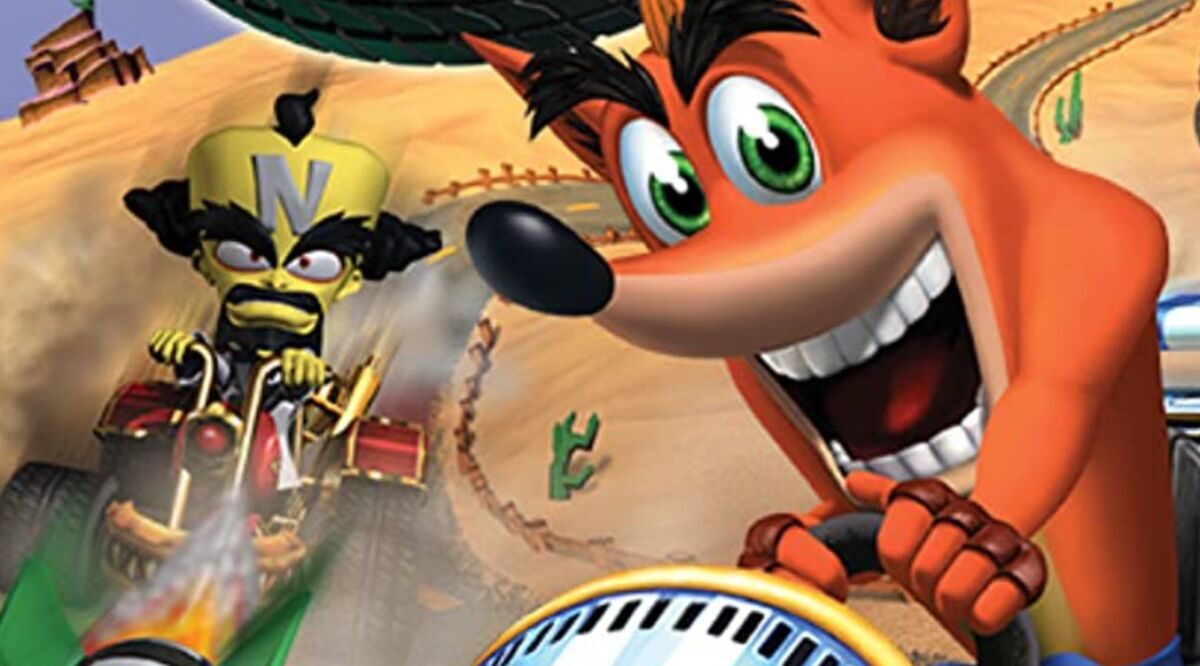 Developer: Vicarious Visions
Publisher: Universal Interactive
Crash Team Racing is one of the most universally beloved racing games ever made, but that launched for the PS1, and the Bandicoot's racing game adventures on the PS2 didn't exactly match up to that original outing. They were still fantastic games, but not quite on the same level as CTR. Still, there's a reason why Crash Nitro Kart played a core factor in the Crash Team Racing re-release a few years back.
For starters, Crash Nitro Kart featured plenty of great tracks, along with the same compelling gameplay that made CTR such fun to play a few years prior. However, Crash Nitro Kart upped the ante even further by introducing the powersliding mechanic, which gave the series some much needed depth. While it might not be quite as good as the original, Crash Nitro Kart is still great fun to play.
14. XGIII: Extreme G Racing
Developer: Acclaim Studios Cheltenham
Publisher: Acclaim Entertainment
There's a reason why the Extreme G series didn't quite have the same amount of staying powers as Wipeout, a fellow sci-fi racing franchise, and it's not just because Acclaim went belly up in 2004. Weak sales and a lack of originality beyond "what if bikes instead of ships" didn't help the series' longevity, but Acclaim put everything into the release of XGIII: Extreme G Racing, and the result is an extremely fun yet challenging racer, and one of the best PS2 racing games ever made.
Like most futuristic racers, XGIII sees players racing around massive tracks filled with twists, turns, drops and other kinds of gravity defying shenanigans. You'll compete against 11 other racers on high-powered bikes outfitted with a variety of weapons, with victory going to either the fastest or the one who can blow everyone up. You can't make it over the finish line if you keep exploding, after all.
13. Wipeout Fusion
Developer: Studio Liverpool
Publisher: Sony Interactive Entertainment, BAM! Entertainment
Much like Crash Bandicoot's escapades in kart racing, the WipeOut series never really captured the same spark on PS2 as it did on the PS1, but then again, how could it? The first three games on PS1 were almost single-handedly responsible for pioneering 3D anti-gravity racing before F-Zero X even launched, while also raising the profile of the underground British trance music scene. Wipeout Fusion had some big boots to fill, and it certainly gave it a great shot.
Fusion saw the futuristic world of Wipeout look the best it ever has before the release of the Omega Collection on PS4, with improved graphics and colours. Still, Fusion also retained the excellent gameplay and physics that had been present in the series since Wipeout 2097. While critics weren't keen on some of the track designs, no one could deny that the magic was still there. Now if we could get a new Wipeout on PS5, that'd be real swell.
12. V-Rally 3
Developer: Eden Studios
Publisher: Infogrames
While we'll touch on the actual juggernaut of the rally gaming genre later on in this list, one game that deserves some love is V-Rally 3, which built on the foundations that the series put forth in the original PS1 titles. The gameplay side of things is stellar, with plenty of thrilling moments as you race across the game's 24 different tracks, but the real highlight here is the Career Mode.
Using tracks and cars from the 2000-2002 WRC events, you'll build a team to compete against the best of the best from across the road, but it's the decisions you make off the dirt track that make just as much of a difference as the decisions and performance on the day. You'll need to manage your staff morale and car durability from race to race if you want to have any chance of claiming the championship for yourself.
11. Road Trip Adventure
Developer: E-game
Publisher: Takara, Conspiracy, Play It
In a lot of ways, Road Trip Adventure is a precursor to a lot of modern day racing games. It also has the world of Pixar's Cars beat when it comes to anthropomorphic vehicles, so Road Trip Adventure is quite the trailblazer. Known as Choro-Q HG 2 in Japan, or Everywhere Road Trip in North America, Road Trip Adventure utilised an open-ended career and fully explorable world in a time where open world games were still finding their feet.
With a world of living cars, the President of the world decides he's bored of the job and wants to hold a massive World Grand Prix to decide the next ruler of the free world. As a humble car from the middle of nowhere, you'll work your way up the rankings, gaining sponsorships and teammates while competing in various races and minigames in order to qualify for the ultimate race. Road Trip Adventure might be a more obscure pick, but it deserves its place among the best PS2 racing games of all-time.
10. Colin McRae Rally 3
Developer: Codemasters
Publisher: Codemasters
For pretty much the entire duration of the 2000s, one man almost had a chokehold on the entire rally gaming genre: Colin McRae. The real life rally driver who tragically died in a helicopter accident back in 2007, Colin McRae's licensed games with Codemasters were arguably the premier simulations of rally racing on the PS2. If it didn't have Colin McRae's name on the box, it probably wasn't a rally game worth playing.
While there are several Colin McRae titles on the PS2, we're giving the nod to Colin McRae Rally 3, which made a raft of improvements to the overall gameplay and engine of the series, making it the best quality possible. That being said, pretty much all of the Colin McRae Rally titles are solid, including 2005, which included a lot more in the way of content and game modes for players looking to take on Colin himself. Or, you know, his A.I. character.
9. NASCAR Thunder 2004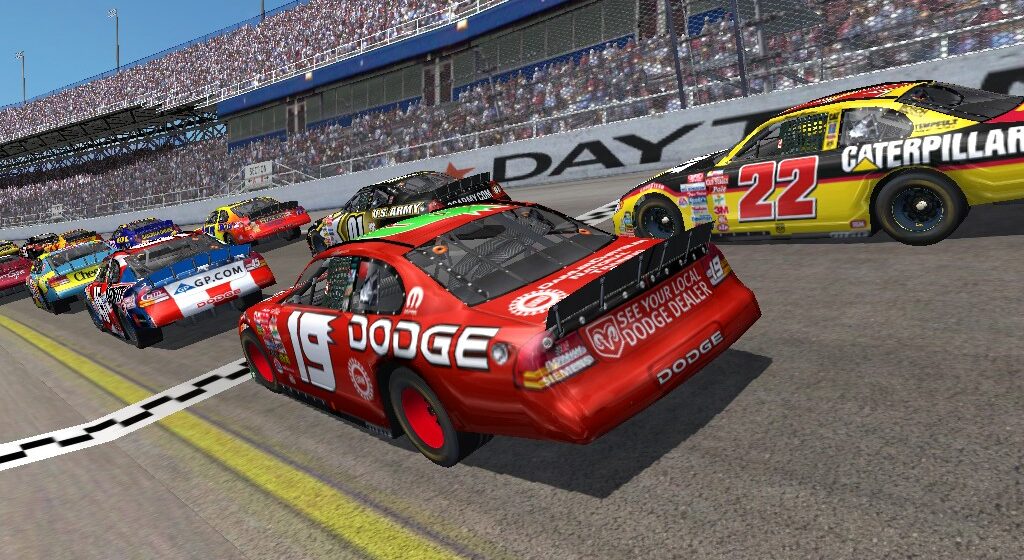 Developer: EA Tiburon
Publisher: EA Sports
For whatever reason, there's a huge following to watch people make the same left turns hundreds of times in one day, and EA capitalised on it in a big way with their NASCAR series of games being just as successful as FIFA, Tiger Woods PGA Tour and other sports licences. While there's a plethora of NASCAR titles available on the PS2, NASCAR Thunder 2004 offers the best range of modes and gameplay improvements for fans of the sport.
Players were able to create their own custom driver and take on the Career Mode, racing for sponsorships, equipment and the respect of your competition, or you could just plonk them into a Season mode which you could customise. Meanwhile, SpeedZone offered challenges that taught players the different aspects of NASCAR racing, while the Lightning Challenge mode put players in the middle of real life scenarios from the 2002 and 2003 Winston Cup races. If you ever thought you could dodge a crash better than the pros, this was the mode to prove it.
8. Splashdown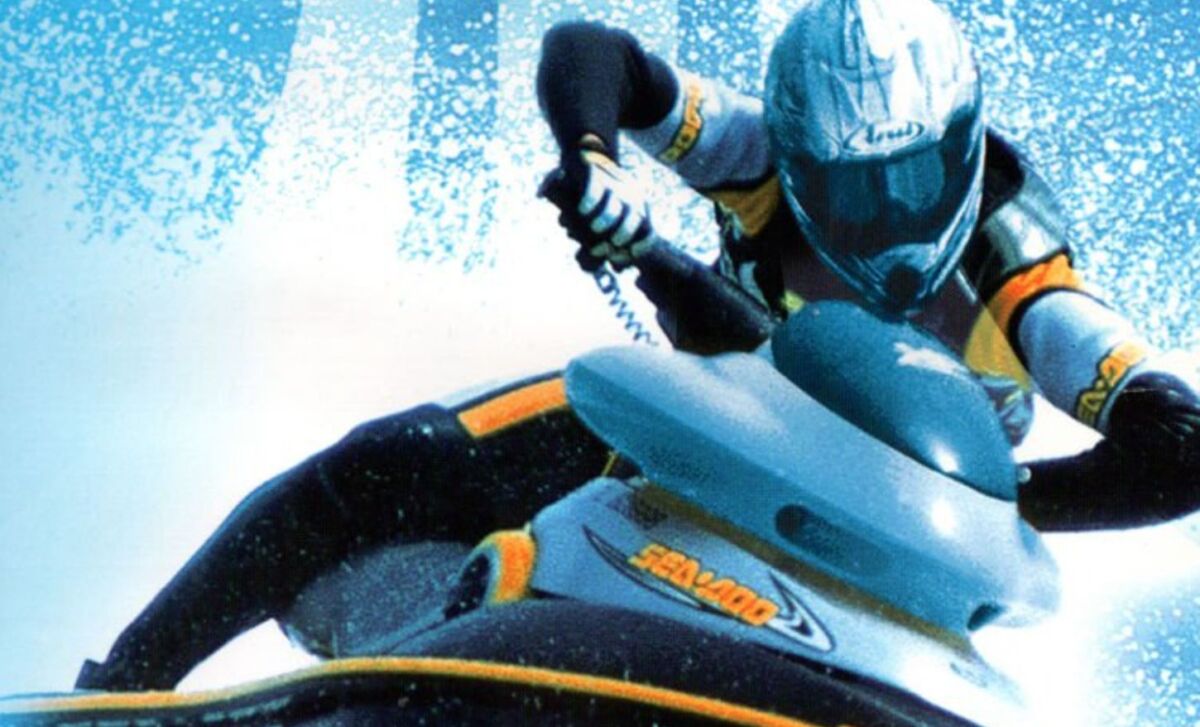 Developer: Rainbow Studios
Publisher: Infogrames
Racing games and jet skis seemed to go really well together in the late 90s to early 2000s, with titles like Jet Moto and Wave Race captivating players as they took to the water. It's a trend that seems to have died out over the years, which is a shame because water physics look fantastic these days. A game like Splashdown, with today's graphics and level of polish, could be one of the best racing games ever.
This isn't to say that the original Splashdown wasn't fantastic in its own right, of course, as it served to highlight how aqua-based racing could compete with the more traditional tarmac brethren. Players would compete across 18 different environments, winning races and nailing tricks to advance through the game's career mode, unlocking better jet skis in the process. It might not have had the physics of Wave Race: Blue Storm on the GameCube, but when it comes to jet ski racing, there's few better than Splashdown.
7. Ridge Racer V
Developer: Namco
Publisher: Namco
For years, the Ridge Racer series had the run of things over on PlayStation's consoles, with the first four games in the series garnering critical acclaim and plenty of deserved attention. Heading into the PS2 era, eyes were on Namco to deliver a game that matched up to the franchise's lofty heights, and as a launch title for the PS2, it certainly achieved a lot of success. You never saw graphics this good in the year 2000, and the gameplay helped Ridge Racer V become one of the best PS2 racing games ever.
Ridge Racer games have often been some of the most famous examples of drifting within gaming, with RRV encouraging the player to powerslide around corners at all times in order to win. The game itself might be a little bit barebones in terms of content, but the gameplay and soundtrack that Ridge Racer V offers are still compelling even to this day. Now, if Bandai Namco could make a new one, that'd be lovely. Cheers.
6. Downhill Domination
Developer: Santa Monica Studio, Incognito Entertainment
Publisher: Sony Interactive Entertainment, Codemasters
Given that Santa Monica Studio gained so much acclaim in 2018 with God of War, a game about climbing a mountain, it makes sense that one of the earliest games they helped develop was Downhill Domination, a BMX racing game about going down a mountain really fast. Although there's no Spartans or Norse Gods roaming around in Downhill Domination, there are plenty of crashes that even the most hardened of Gods would struggle to walk away from.
As the name would imply, Downhill Domination is all about racing as fast as possible, competing against not only other players but the very environment itself. With both first person and third person perspectives, Downhill Domination could be considered ahead of its time now that games like Descenders and Riders Republic are being enjoyed by thousands of people. If you want to see where some of that DNA comes from, check Downhill Domination out.
5. Outrun 2006: Coast 2 Coast
Developer: Sumo Digital
Publisher: SEGA
Normally, a racing game series can struggle to keep itself going as it gets older, but Outrun managed to successfully reinvent itself brilliantly for the sixth generation of consoles with Outrun 2. Transitioning from 2D to 3D turned out to be a great move for the series, but SEGA weren't done there, tasking the British studio Sumo Digital with creating the infinitely better Outrun 2006: Coast 2 Coast, which still stands as one of the best PS2 racing games ever made.
The core gameplay of OutRun remains the same, with the player trying to make their way through various stages as quickly as possible, drifting around corners in a Ferrari to do so. However, Coast 2 Coast earns its acclaim for the amount of additional content it jams in there, with a full arcade conversion of Outrun 2 SP included, along with an extensive Career Mode and more cars than any other Outrun game. Unfortunately, the licensing deal between SEGA and Ferrari collapsed in 2010, so chances of a new one remain slim.
4. Need For Speed: Underground 2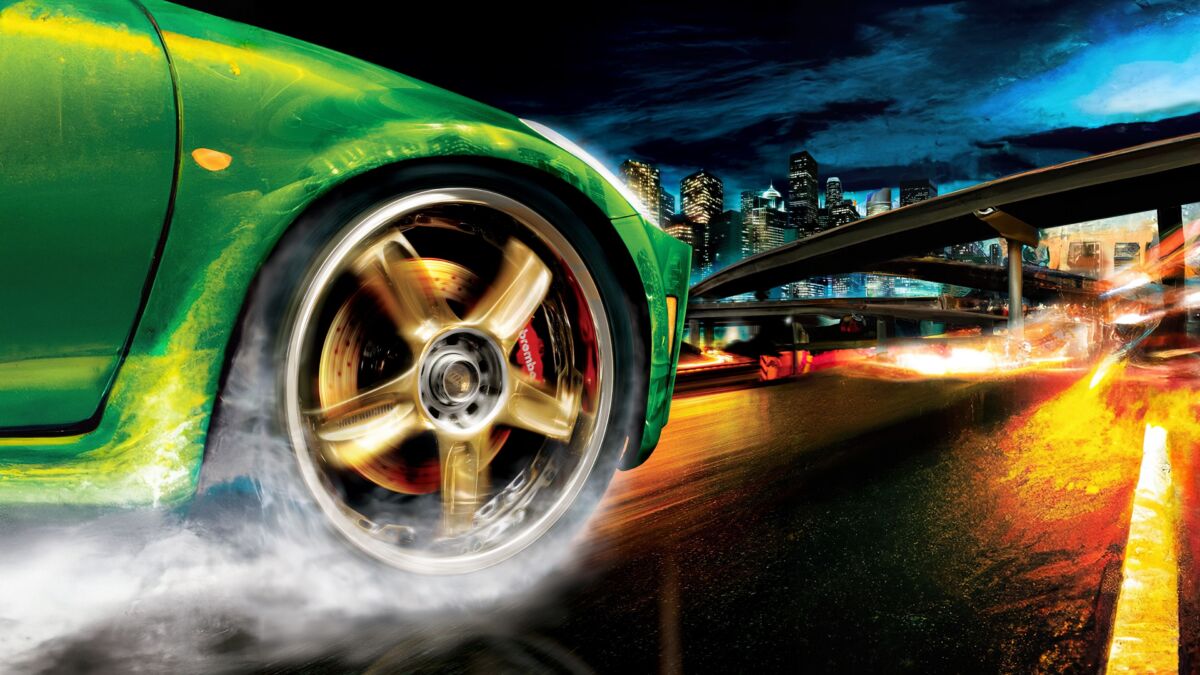 Developer: EA Black Box
Publisher: EA Games
Another racing game series that's synonymous with the PS2, Need For Speed made its name on games like Hot Pursuit and Most Wanted, but for many, the series peaked with the Underground duology. Need For Speed Underground brought street racing, customisation and that iconic, grimey aesthetic to the franchise, but for our money, Underground 2 built on everything the prior game introduced.
Taking the action away from just enclosed tracks to allow players to explore a full city, Underground 2 follows the same premise as most racing games. You win events, you upgrade your car, you take on tougher events, and so on until you eventually claim the entire city of Bayview as your own. With excellent, arcade-esque racing, plenty of race types and loads of cars to choose from, it's no wonder that NFS: Underground 2 became as successful as it did.
3. Midnight Club 3: Dub Edition Remix
Developer: Rockstar San Diego
Publisher: Rockstar Games
It might be a somewhat controversial opinion to say that Midnight Club 3: Dub Edition Remix is a better racing game than Need For Speed: Underground 2, but when comparing the two side by side, Midnight Club 3 is the superior game. It's also a harder game, with AI that'll consistently challenge you throughout the game's career mode, but that's another point entirely. If open world street racing is your bag, Midnight Club 3 is the best of the best on PS2.
Set across three different cities, you'll prove yourself as the best street racer in San Diego, Atlanta and Detroit, earning and customising cars along the way. Each map is filled with shortcuts and secrets to unlock, rewarding heavy exploration on top of just racing, while the physics nicely blur the line between simulation and arcade-esque drifting. As an added bonus, the Remix version also includes more cars, tracks, songs, and a fourth city in the form of Midnight Club 2's Tokyo map.
Also, Midnight Club has bikes. Take that, Need For Speed.
2. Gran Turismo 4
Developer: Polyphony Digital
Publisher: Sony Interactive Entertainment
Polyphonic have been dominating the PlayStation racing game scene for decades with the Gran Turismo, and it's not surprising. When it comes to simulation racing, there's none better than Gran Turismo, especially if you absolutely love the smell of petrol in the morning. As far as the PS2 games are concerned, many would likely favour Gran Turismo 3: A-Spec as their game choice, but Gran Turismo 4 just about takes it for its execution of the car enthusiast's dream.
The whole game is a love letter to automotive culture, without beating it over your head as much as it does in Gran Turismo 7. The whole game is just about building your car collection by winning Grand Prix events, completing missions and earning licences, but there's almost a whimsical nature to the whole affair, especially as you can just sack off the racing and go take pictures of your cars in Times Square. As simulation racers go, this is the PS2's crown jewel, but it's not quite the best PS2 racing game ever made.
1. Burnout 3: Takedown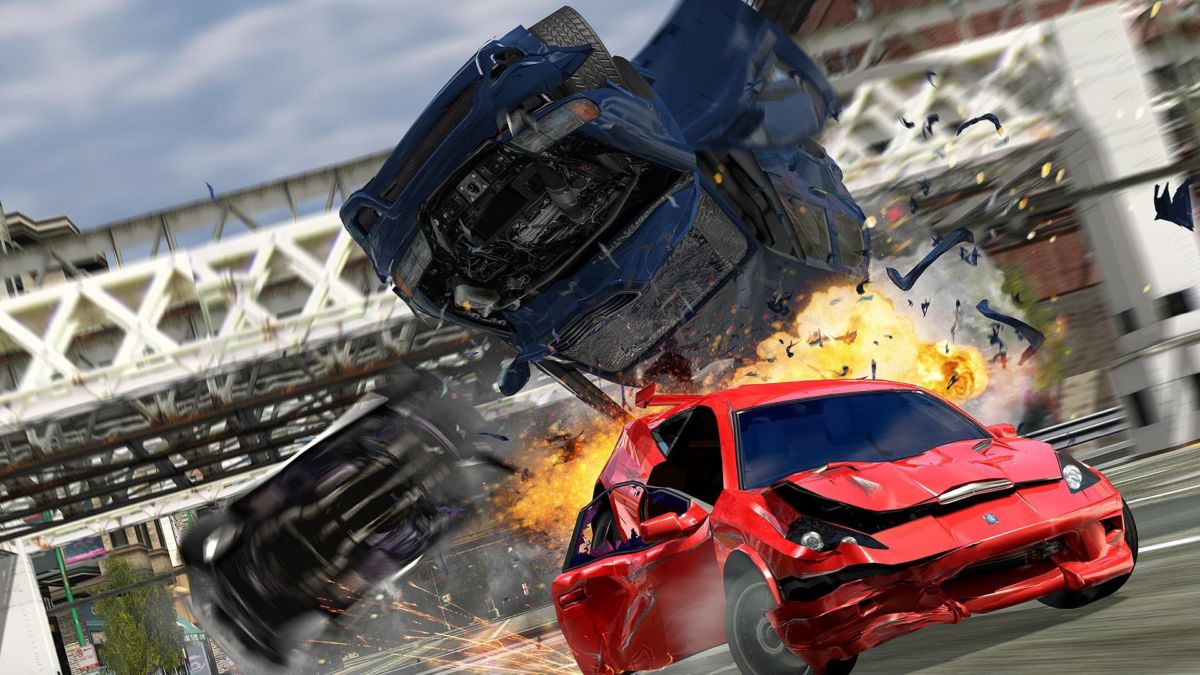 Developer: Criterion
Publisher: EA Games
Not a day goes by that we don't lament the fact that EA and Criterion stopped making Burnout games. While the series might have struggled to find its footing with Burnout and Burnout 2: Point of Impact, Criterion proved that the third time's the charm with Burnout 3: Takedown. If you like your racing games to be brash, eye-scorchingly fast and filled with devastating crashes, Burnout 3: Takedown is absolutely the game for you, and the best PS2 racing game ever made.
Light on premise but big on fun, you're competing to become the best Burnout racer of all-time, travelling across the globe to slam, shunt, shove and shitcan your opponents in a variety of events. Of course, if the racing isn't your speed or you're just feeling like a change, you can always launch into the Crash Mode instead, which tasks you with driving into a busy intersection to cause as much damage as possible. PS2 racers never managed to be as enjoyable or entertaining as Burnout 3: Takedown.
READ MORE: Ranking the Spider-Man PS2 Games From Worst To Best
Some of the coverage you find on Cultured Vultures contains affiliate links, which provide us with small commissions based on purchases made from visiting our site. We cover gaming news, movie reviews, wrestling and much more.