Looking to jump into an expansive new world? We've compiled a list of 50 of the best Action-Adventure games for you to play on your PS5 console. Some of these games are from the previous generation but still run beautifully on the PS5, either with performance or graphical upgrades.
Traverse the planes of Horizon Zero Dawn, dive into the emotional story of The Last of Us, or become a treasure hunter in the Uncharted series. We've got a big selection of games to choose from so let's get started!
#50 The Elder Scrolls V: Skyrim
This 11-year-old game still holds merit in its original form. It's a masterfully crafted RPG with heaps of lore, places to see, enemies to kill, and weapons to plunder. It's all about how you play. Do you follow the storyline to uncover your Dragonborn origins or do you quest off becoming your own person? The game, while dated will still offer tons of exploratory fun. Create your character, level up your magic abilities, quest for money and gear while traversing the dangerous world of Tamriel.
#49 Far Cry 6
Far Cry, Ubisoft's premier sandbox series has covered many locales in its lifetime. From jungles and beaches to middle America, each place gave players plenty of things to do. In its sixth main installment, players are greeted with the beauty of the Caribbean.
While the general tone of each game is similar to the previous games, Far Cry 6 adds a new leveling system to encourage players to get out and do more, rather than just cruise through the story. Previously players would have the usual skill tree that would give them new abilities. With Far Cry 6 you will need to scrouge for gear that gives special bonuses, for example a headpiece which allows you to be more resistant to gas or clothing allowing you to swim faster.
Visually the game is stunning, gunfights, explosions, car chases, and everything in between look absolutely vibrant, offering a massively manic playground to sink hours into against the backdrop of Zany Giancarlo Esposito's brutal dictatorship. Lock and load.
#48 Infamous: Second Son
Infamous: The Second Son is an anti-hero third-person action-adventure from Sucker Punch studios. It's the third game in the Infamous series and is a play on morality and choices. Delsin, is a powerful conduit who is able to shape the world in either good or bad ways. Healing civillians and doing drug busts while change your jacket white, while killing civillians and not appreading criminals will turn it red.
As you play through the game you'll collect shards to shards to spend on different elements in the game. Neon, video, concrete and smoke. Depending on your playstyle you'll level up each of these elements.
Infamous: The Second Son is made for consoles, using the dualshock controller you to really feel like you are traversing through the city of fictionalized Seattle.
#47 The Elder Scrolls V: Skyrim Special Edition
The Elder Scrolls V: Skyrim Special Edition remasters the 2011 RPG adding special effects such as volumetric God rays, dynamic depth of field, and screen-space reflections, and adds better support for mods, allowing players to experience new areas, armors, quests, and abilities throughout the community. The PS5 version brings a 4K update and a locked 60FPS. There are also 4 DLC packs that come with the game:
Saints and Seducers – A couple of new quests.
Rare Curios – New items that can be used in alchemy.
Survival Mode – Adds a survival system where you'll have to eat, drink, sleep, and stay warm.
Fishing – Adds fishing, obviously!
I played briefly Skyrim on PS4 with some friends and found the game quite dated. The walking is buggy and the AI can be quite stupid. But the immersive world, exciting quests, and selection of weapons and magic that one can use makes the grafting worthwhile. I played through it with two friends when there was time and really enjoyed it as a social experience.
#46 Uncharted: Nathan Drake Collection
The Uncharted Nathan Drake Collection brings 3 of the Uncharted games under one umbrella collection of PlayStation titles. Each of the games a remastered for the PS4 annd PS5. The first game while very dated is a classic and (in my humble opnion) could be comparable to Spyro in the sense of basic controls and exploration. It doesn't offer much in todays termss but still has enough action to keep it going.
The second game ramps up the ante. With epic destruction scenes, more weapons, and a story that spans the continent of Europe and Asia.
The third game is set two years after its predecessor and follows the story of Nathan Drake as he and his venture off to discover the legendary lost city of the Iram Pillars.
If you are a fan of Naughty Dog's productions the this is definetly a game to have in your collection.
#45 Assassin's Creed Valhalla
Assassin's Creed Valhalla follows the story of Eivor (in either a male or female form) as they begin to leave Norway and raid Englad. What's quite cool with this game is that it features a base-building segment giving it a bit of an RTS feel. You'll build barracks, shops, shipping rigs and more to either give you more quests or to build up and army to raid for more resources. The game pushes stealth aspects slightly more than Odyssey or Origins, mainly based around the fact that you can scope out the potential raids, blending in and thinning out the resistance before calling in your army.
#44 Wolfenstein II: The New Colossus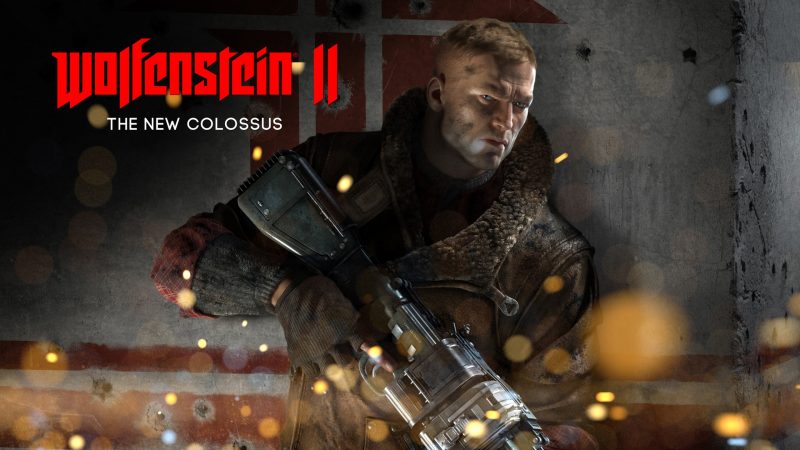 Wolfenstein II: The New Colossus is a first-person action shooter set in an alternative reality where the Nazis end up winning World War 2. B J. Blazkowicz, the series' bulky, head-heavy strong man makes a return in the game, this time with dual-wielding weapons. Players can dual-wield most weapons, allowing for double damage but at the cost of accuracy. Attachments can also be equipped onto guns to allow for special attacks.
What's quite interesting is with this game theres a cover system that allows you to learn around or over cover. The game is filled with Nazi jokes, quirky characters, and old but futuristic enemies reminiscent of Fallout. If you are looking for a fictious World War type of game, pick this one up.
#43 Control
From the developers of Quantum Break comes Control, a supernatural shooter with a mysterious storyline. You take on the role of Jesse who enters the premises of the FBC, an agency where paranormal things happen. As the story progresses, she figures out that "the hiss" is behind the paranormal activities possessing individuals and changing the architecture of the building.
While the storyline works really just to progress the game, the star of the show is your supernatural abilities. Much like Quantum Break, you can levitate, fling objects across rooms, and control enemies all while shooting your shape-shifting pistol. The pistol can take on multiple forms such as a machine gun, shotgun, sniper, or charging round.
#42 Watch Dogs 2
Watch Dogs 2 is easily comparable to GTA 5. There are a lot of similarities but what GTA 5 lacks is the interconnectivity of tech devices that are themed throughout Watch Dogs 2.
Watch Dogs 2 pushes more of a stealth playstyle especially with the main character, Marcus, being able to practically hack through any device. Watch Dogs 2 has more vivid colors, and it's more challenging to get to particular areas which makes it more rewarding when the player does reach said area. It's perfect if you are a tech-savvy person like myself.
#41 Destiny 2
Because this game is now free-to-play (somewhat), there's no con in downloading it to see if it's your thing. The PS5 version of Destiny 2 benefits from its increased performance, boasting 60fps in PvE and 120fps in PvP. Destiny 2's mechanics and gameplay are fun, the futuristic space environments are engaging, and the rewards for grinding can be incredible– though too much can get boring very quickly. Still, this game continues to find players logging in daily.
#40 Shadow of The Tomb Raider: Definitive Edition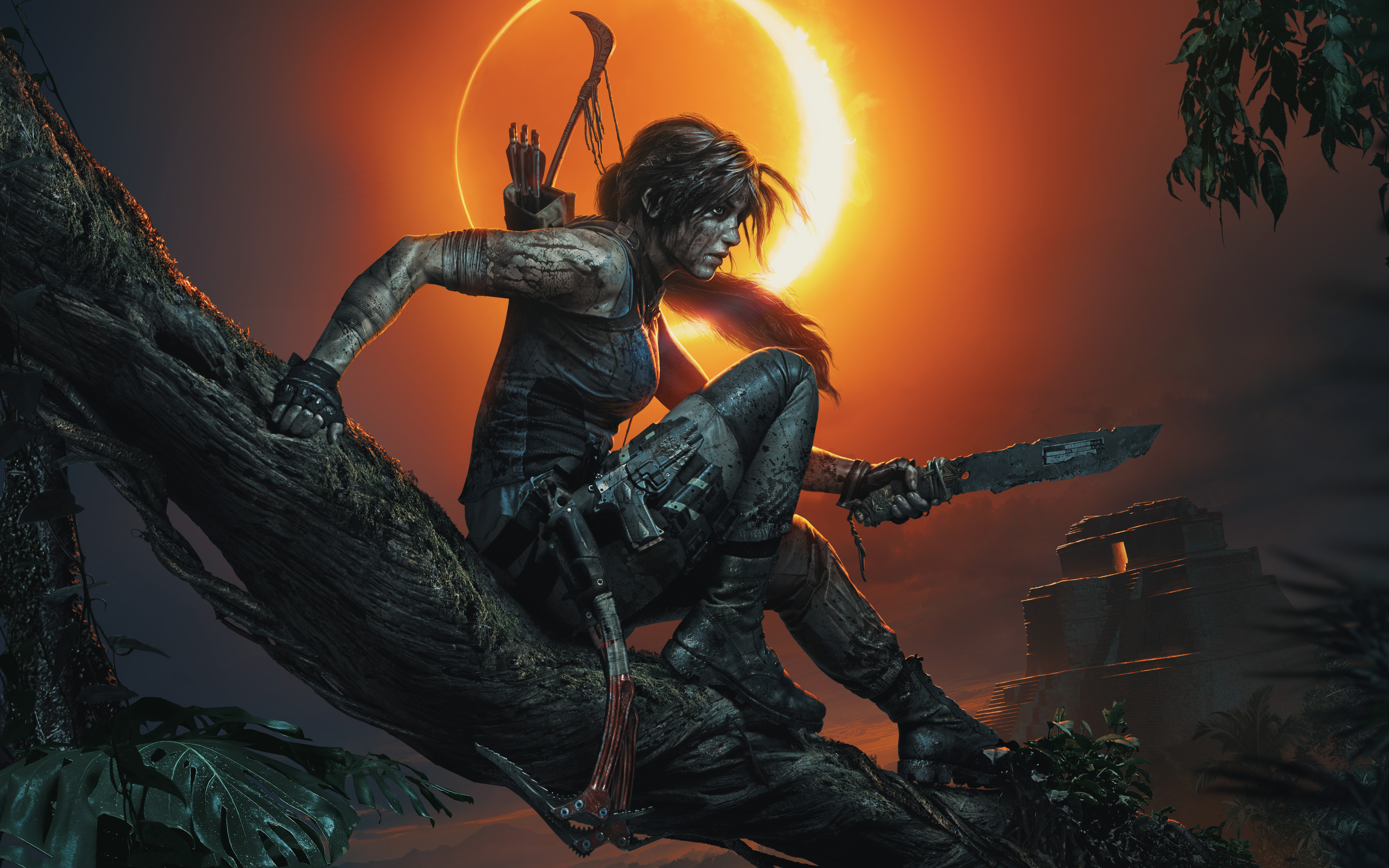 Lara Croft makes a return as female Rambo in the final entry in a trilogy of rebooted Tomb Raider Games. In Shadow of The Tomb Raider Lara has her usual bow and arrow (with other unlockable types) different side arms, and access to rifles and to shotguns. She'll make use of her firepower while exploring the tropical regions of Central America in search of the legendary lost Incan city of Paititi. In a race against time and an enemy organization called Trinity, Lara will explore exhilarating Mayan and Aztec ruins, solve complex puzzles, and have one-on-one fights with actual Jaguars.
#39 Superhot
Superhot is an incredibly trippy first-person shooter. Most of you probably have already seen this game being played by popular streamers when it was first released back on the 25th of February 2016. The concept is simple and fun: time moves only when you move. This lends its hand to epic melee and weapon battles, close-call bullet dodges, and furious fist fights – all in a slick white, black, and red aesthetic. The storyline is based around a user (you) who downloads an unknown game from a user on a chatroom. As you progress reality slips and the game becomes real life. Or is it still a game?
#38 Deus Ex: Mankind Divided
Deus Ex: Mankind Divided was praised for its brilliant narrative and unique approach to worldbuilding. Similar to previous entries in the series, Mankind Divided puts you in the shoes of Adam Jensen, a man equipped with various cybernetic implants. The game can be played in a variety of ways, with the player's actions having a direct influence over certain outcomes in the main story. For instance, you can play the game lethally, killing everyone and everything, or as a pacifist, using dialogue to persuade people that violence isn't the answer. Obviously, being stealthy is the key to the latter.
What I really liked in this game are the fun side missions. Breaking into a lofty apartment to hack into a politician's computer while avoiding getting detected really makes you feel like a cybernetic badass.
#37 Battlefield 1
From EA comes the first dive into World War 1. Fight on the iconic gorges of Italy, the deserts of Sinia, the beautiful city of Champagne-Ardnese, and more. Soar the skies with spite-fire fighter planes, pilot terrifying tanks, and race into the war with a horse all while using a myriad of interesting WW1-era weaponry and gear.
Battlefield 1 is on par with Battlefield 4 (my personal favorite in the series) it's stylish, bug-free, and has an emotional single-player offering insight into each side of the War – which I find quite cool as more often than not the German perspective gets neglected in World War games.
#36 Bloodborne
FromSoftware's Bloodborne is a 3rd-person hardcore action RPG inspired by HP. Lovecraftian horror and Victorian elements. You'll fight terrifying creatures and make use of guns and cleavers, dodging, shooting, and slicing enemies in your through the ancient city of Yharnam plagued by an all too mysterious disease.
Bloodborne has raving reviews with critics and gamers alike praising it for its challenging foes, intricate fighting mechanics, and fascinating world.
#35 Dark Souls 3
FromSoftware Dark Souls 3 is a hard-core fantasy RPG similar to Bloodborne. You will fight a multitude of difficult grunts and bosses with dual-wielding weapons, using a sword and shield combination or equipping powerful but slower two-handed weapons.
In this game magic also plays a role in making your character more useful. Equipping Chimes allows you to heal yourself, buff yourself or deal damage. While there are different classes to choose from it does look like the Knight class is the strongest and magical classes such as Clerical or Pyromancer are generally weaker.
The knight class's starting weapons and armor allows you to play the game for a good 15 hours without needing to switch. So if you are looking for the right class to begin with the basic knight class is the best. On the PS5 it runs in a boosted mode with 4k graphics and a 60FPS framerate.
#34 Sifu
Have you seen any Park Chan-wook movies? Snowpiercer, Oldboy? Sifu is similar in the vein of these movies as it stars a one-man vs the world Kung-Fu student on a journey of revenge, hunting down the murderers of your family.
The game's action is what really takes the forefront in this game, you have combos, light attacks, heavy attacks, and blocks which you will need to use skillfully to defeat difficult martial arts bosses. Our hero has a medallion that revives you each time you get killed. That being said, there is a cost. Each time you get revived you will age, getting older and older until the medallion breaks. Once it breaks you will have your last run, either resulting at the end of the game or your glorious victory
#33 Star Wars Jedi: Fallen Order
The same team that brought you Titanfall 2 and Apex Legends comes Star Wars Jedi: The Fallen Order, a third-person action-adventure title. The story comes 5 years after the events of Star Wars III: Revenge of the Sith, where Cal Kestis a Jedi padawan who survived Anakin's culling is being hunted down by two Sith sisters trained by Darth Vader. 
Gameplay-wise, it's a platform explorer action game. You'll be taking down a not-so-large variety of enemies (unfortunately) using your lightsaber, parrying enemies, deflecting lasers, and doing cool action takedowns (kind of similar to Shadow of Mordor but not as violent). There is a skill tree system that sees you level up your character through playing and cosmetics for both your player and your lightsaber (although finding lightsaber components can prove tough)
#32 Rise of the Tomb Raider
Rise of the Tomb Raider is a 2016 released action-adventure game from Crystal Dynamics studios. The game has a very Unchartedy feel, placing Lara on a quest to discover the legendary city of Kitezh. Lara will traverse the icy locales of Siberia and explore deep sunken ruins in Syria while taking on the dangerous Para-military group, Trinity.
The game also features a Zombie DLC called Lara's Nightmare.
#31 Final Fantasy VII Remake
From Square Enix comes the remake to the 1997 PS1 classic game Final Fantasy VII. Set in a Dystopian Cyberpunk world, you play as Cloud Strife, a defected Shinra Soldier who joins an eco-terrorist group to fight the Shinra corporation which has been using the planet's energy for their own selfish gain. The game is a real-time action RPG with strategic elements. There are open-hub scenes in addition to fight scenes giving you enough space to explore. If you aren't familiar with Final Fantasy, this game was a smash hit when it was released in the 90s. It's just as fun as when it was released all those years ago.
#30 Final Fantasy XV
Final Fantasy XV is a JRPG from Square Enix Studios. Taking a decade long to develop and having switched names and Leadership, the game finally arrived in 2016 with considerably positive reviews. The game follows the story of Prince Noctis and his three companions as they do an epic road trip through the open world of Eos defeating the evil Niflheim in order to take back the crystal which Noctis and his family have possessed for centuries. The gameplay is fun, the combat is intuitive and the graphics are stunning. One of the biggest drawbacks however, is that the side missions can be quite repetitive, and disconnected from the main game.
#29 Fortnite
The Battle-royale sensation, Fortnite came out on PS4 in 2017 making it one of the first games to bring Battle-royale to consoles. Since having been released the game has become a massive sensation resulting in collaborations with Star Wars, Marvel, and even with big musicians such as Marshmellow and Travis Scott. Currently, Fortnite is in it's 7th season and shows no signs of slowing down. Unfortunately, because the game has been out for some time right now, the learning curve is quite steep for newcomers. Don't expect to reach the top place within a week or two of stepping in. My roommate and I used to play this game one for one. Whoever died before 50 would have to drink some very cheap wine. Hey, student life.
#28 Uncharted 4: A Thief's End
From Naughty Dog comes the 4th installment in the Uncharted series. This epic journey sees Nathan Drake making once again a come-back in the series. This time the story brings both the Drake brothers in a mission around the world to find the hidden Captain Henry Avery's long-lost treasure. Uncharted 4: A Thief's End brings more mobility into the action game. This time around Nathan has a grappling hook that allows him to swing from playing field to playing field. Nathan also has explosives, and one or two-handed weapons, and the combat system has been reworked to be more fluid and to remove any quick time events.
#27 Marvel's Spider-Man Remastered
Having initially released two years ago for the PS4, Marvel's Spider-Man Remastered offers the original game, but with updated visuals at 4K and a buttery-smooth framerate of 60FPS. The game also capitalizes on the PS5's adaptive triggers giving players web-slinging haptic feedback. As usual Peter Parker is back at it again trying to save the city from the Classic Spider-man villains such as Doc Ock, Electro, and Rhino while keeping his real life separate from his superhero life. Things get tricky when the worlds collide as Peter struggles to balance the two. The game features Spider-man's Protogee Miles Morales as a playable character and also Mary-Jane. 
#26 Monster Hunter: World
Initially released on PS4, Xbox One and PC Monster Hunter World is an open-world adventure RPG developed by Capcom. The game tasks a hunter with quests on taking down giant monsters. The more monsters one defeats the more resources one gathers in order to craft new gear and weapons to take down larger monsters.
From what I've heard, the grinding loop is fun and rewarding. Players will find themselves most of the time in two phases of the game: The preparation and the actual hunt. The preparation involves getting the right gear and utilities, while the hunt is a singular long Epic quest on taking down a boss Monster. The game can be played either solo or in co-op. As usual, it's recommended to play in a group rather than solo. 
#25 Horizon Forbidden West
Horizon Forbidden West sees the return of Aloy in a larger more expansive world, filled with new awe-inspiring beasts to take down and interesting factions to either wage war against or forge impeccable alliances with. Horizon Forbidden West expands on the original game adding in a new underwater exploration dimension to the game. The game runs at a smooth 60FPS with a targeted 4K framerate.
#24 Horizon Zero Dawn
Horizon Zero Dawn is a fascinating third-person action-adventure experience from the same developers behind Killzone. follows the story of Aloy, who lives in a world resemblant to the prehistoric ages, except that it's populated by dangerous mechanical beasts. Having lived most of her life as an outcast, Aloy intends to uncover the danger of her existence and the mystery surrounding the robotic dinosaurs. You'll make use of a host of weaponry and take down giant mechanical beasts while leveling up your character.  
#23 Fallout 4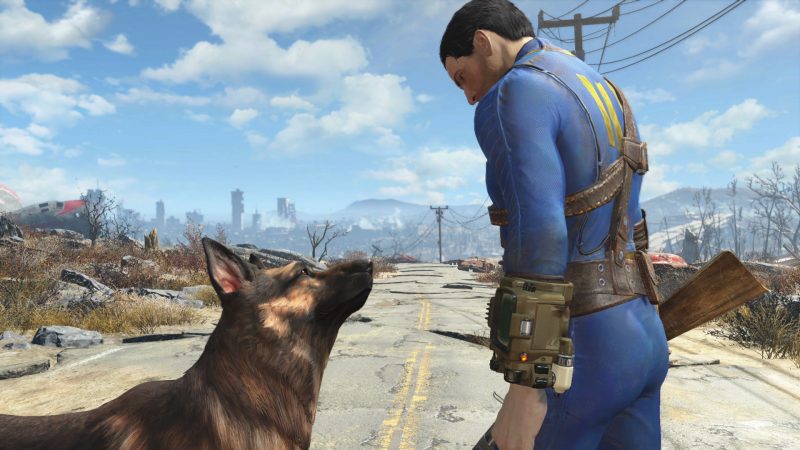 The Fallout games are the retro Sci-Fi cousins of the Elder Scrolls series. Anyone who likes those games will certainly love Fallout. The game is set in the year 2287, hundreds of years after a nuclear war practically destroyed the planet. As a vault dweller, the protagonist survived the war by gaining access to a nuclear bunker at the last minute. Cryogenically frozen, players wake up hundreds of years later to find that their son has been kidnapped and the vault abandoned. Set out into this radioactive wasteland for one of the best experiences in gaming.
#22 Nier: Automata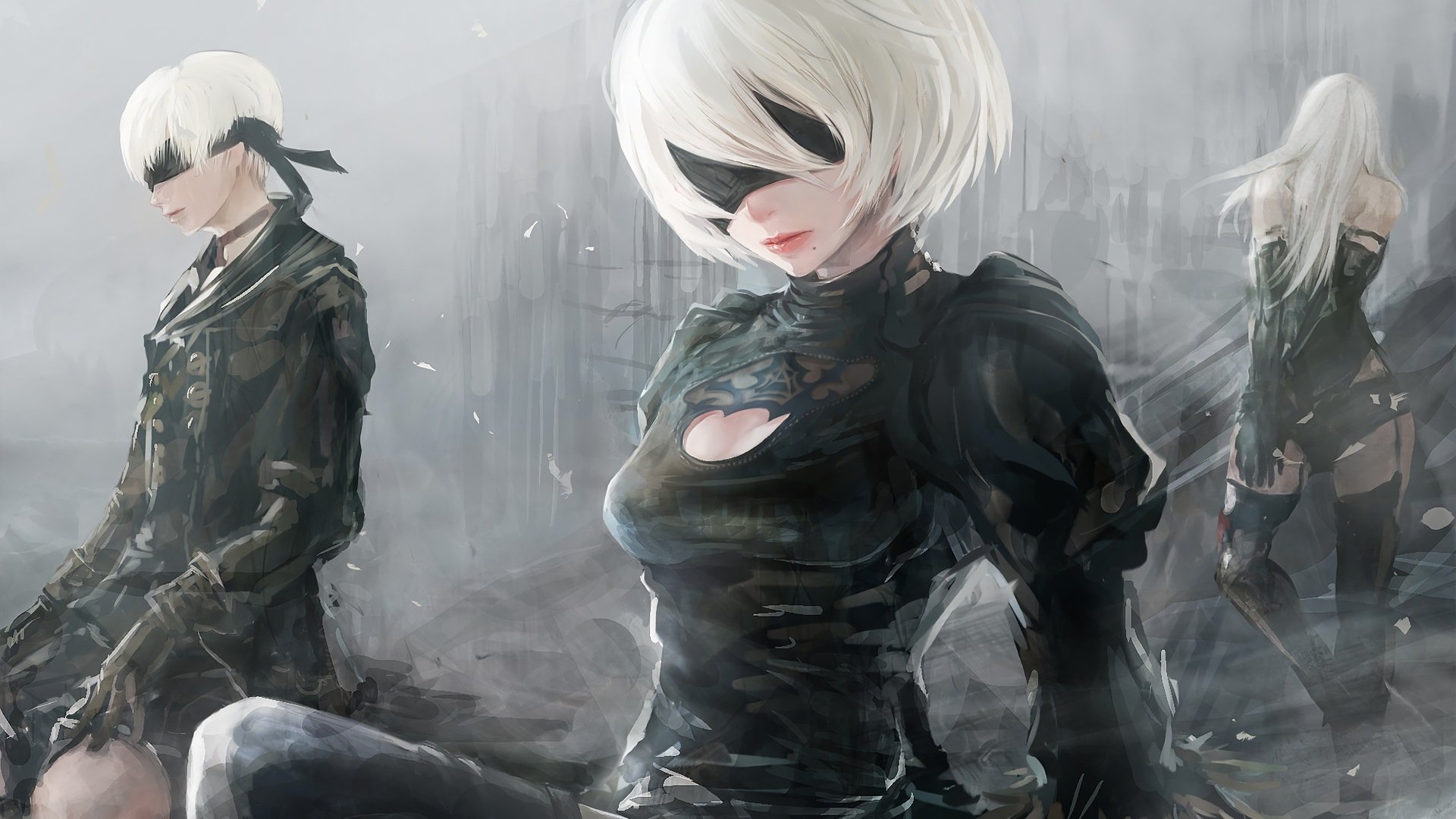 NieR: Automata is set in the same universe as Nier, which itself is a spin-off of the Drakengard series of games. It is set in the midst of a proxy war between automatons created by invaders who are trying to kill off what's left of humanity, who've also created machines of their own to fight in their stead. Players take on the role of a combat android named 2B and her customizable companion 9S. The gameplay (depending on sequences) is resemblant to different genres of games ranging from shoot 'em up to text to adventure.
#21 Batman: Arkham Knight
Developed by Rocksteady games and published by Warner Bros, Batman: Arkham Knight is a third-person action-adventure set in Gotham City. Scarecrow has made a return and this time around has brought his whole crew of supervillains to terrorize the city. There are many gadgets to select from and fist fighting feels very brawly, with bulky combos and takedowns. The batmobile makes an arrival for the first time in the game in both it's a mobile form where the player is able to drive the vehicle through Gotham City, and in a mobile tank form whereby the vehicle drives slower but has gattling cannons and a tank blaster. The City which one can explore is gorgeous and expansive, you'll spend hours flying around and taking down bad guys. It's got a very unique New-York gothic vibe to it.
#20 Batman: Arkham Collection
Batman: Arkham Collection brings all the Batman: Arkham games under a single umbrella package including the DLCs. The first two games have been tactfully remastered with stunning visuals. Progress through the stories of each of the games and fight off Batman's most evil nemesis while aiming to keep the peace in Gotham City.
#19 God of War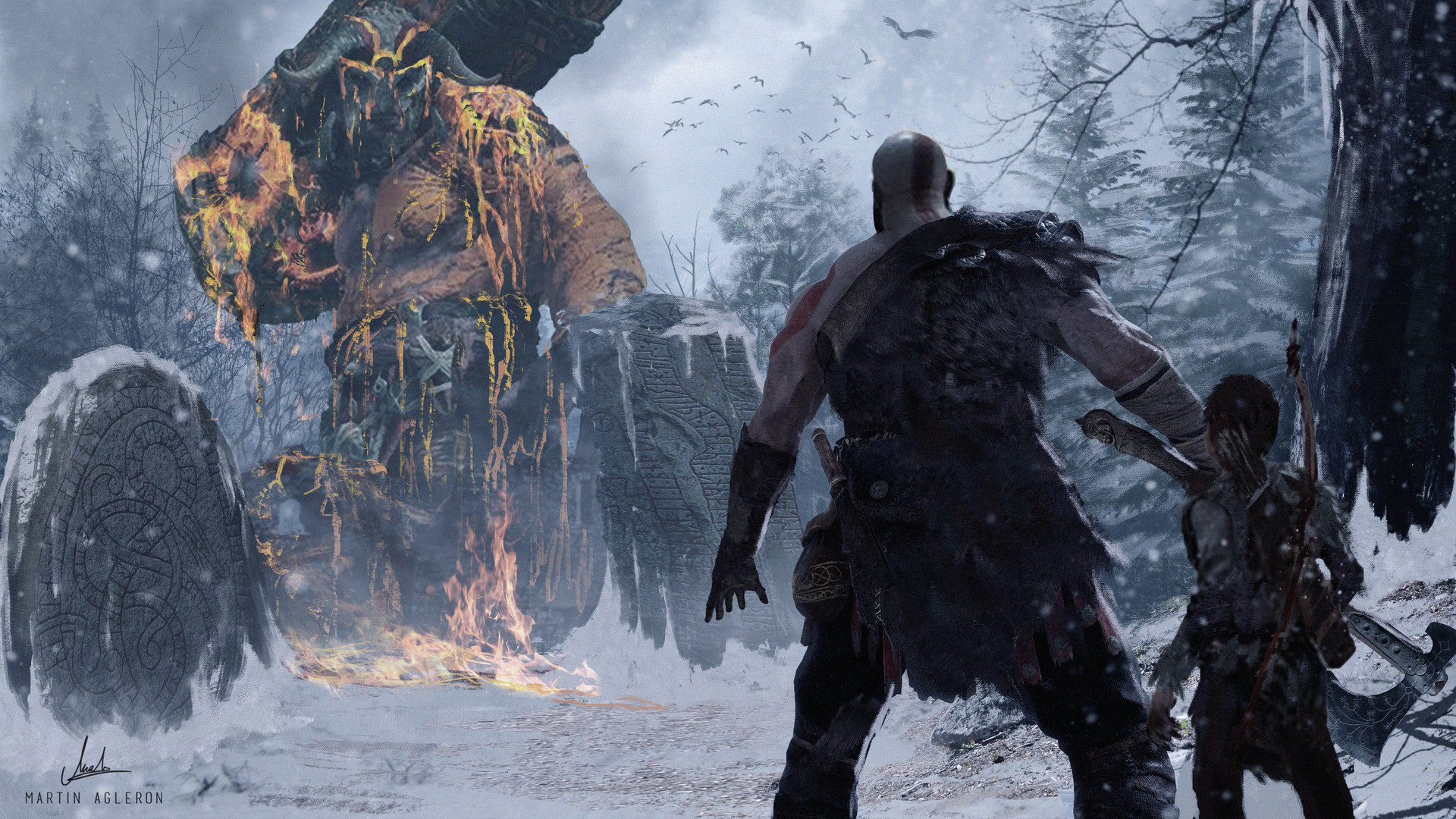 The 2018 God of War reboot has been a game that has had an exciting build-up. Fans of the series have been curious as to where Kratos finds himself. It's been a challenge for the team at Santa Monica studios to evolve Kratos with Norse Mythology but has essentially created a stepping stone to a new universe. 
God of War 2018 is different from the earlier games, it's slower, and Kratos is bulkier but more powerful. There are still combos to remember but it's not as expansive as the previous games. Personally, I got quite bored playing God of War. Why? Because there is a small selection of foes to best, who are just repurposed per area this means you essentially face the same grunts and giants just with different elemental auras and abilities.
The mundanity or graft of fighting the same foes is made up for by the RPG elements of the game, the nods towards the previous games (towards the end you fight a boss who is similar to God of War 3's fight with Gaia), and the deep mystery of Kratos past in Norseland.
#18 Metal Gear Solid: Phantom Pain
Metal Gear Solid: Phantom Pain is unfortunately the only Metal Gear game that I've played (boohoo) but! I can say that I've had so much fun playing this iteration in the series. While I never played any of the previous games, I know that Hideo Kojima is a big deal in the gaming world and has very creatively used Sony's consoles with his games. This was his last game before he left Konami.
While the gameplay can get a little bit monotonous, the selection of mechanical arms, weapons, companions and the general wackiness of the characters and companions (Special Forces dog with a knife in its mouth FTW!) makes the action consistently fun. At its core, it's a third-person military shooter, with base-building RPG elements. I can't really comment much on the story but it's got some strange sci-fi elements to it which backdrops the realistic military feel to the game.
The game is very self-aware that it is a game, which means that fun is prioritized over everything else. Go in with this perspective and you'll end up loving it.
#17 Apex Legends
From EA and the creators of the epic and highly underrated first-person shooters Titanfall and Titanfall 2 comes the role-based, comical Battle Royale shooter, Apex Legends. The gameplay is fluid and dynamic, different characters with their own unique abilities keep the game fresh and exciting (one could compare this game perhaps the League of Legends MOBA.) as each character brings its own playstyle to the game along with weaponry that suits them.
Apex Legends also features a deathmatch game mode called Arenas which is an enjoyable switch-up to the tired Battle Royale format.
#16 The Witcher 3: Wild Hunt
The Witcher 3: Wild Hunt adds more beef and an in-depth feel compared to the first two games..
I loved the interesting monsters which you can take down, the backstory lore which you uncover as you begin a hunting quest, and the mystery of Geralt's Witcher past which makes him a powerful outcast in this fantasy world. The game's main storyline is linked with Geralt's past as he tries to locate his protegee, Ciri.
My single qualm with this game is that human combat can get quite boring and repetitive. There are about 3-5 takedowns which make the fighting feel a bit stiff – this is where Shadow of Mordor and Doom succeed because there just are so many takedowns that make your character feel less of a man and more like an unstoppable God.
Other than that you can level up Geralt as you like focusing on magic combat or agility. There's a relatively in-depth crafting system encouraging trading for supplies to upgrade your gear as well as a world to be foraged to craft potions and spells.
#15 Call of Duty: Warzone
Call of Duty: Warzone offers the modern first-person shooter Call of Duty: Modern Warfare for free in a Battle Royale setting. You'll either drop into Verdansk for Battle Royale or to grab cash in Plunder. Both game modes allow you to pre-set loadouts which can be equipped in-game.
For a free-top-play experience as well as cross-play options, Warzone is a must-have for first-person fans!
#14 Metro Exodus
The first two Metro games were great, but largely on rails (pun intended). By the time the third game came around, 4A was looking to expand, and an open-world setting seemed to be the next progression. It's not a completely open world, mind you– think more of Mass Effect hub areas as your train takes you on to the next plot area.
4A made a good-looking game the first time around, but on the PS5, it looks even better. It's honestly one of the best-looking post-apocalyptic games ever, and that's not hyperbole. The threat of radioactive death feels paltry when you want to go exploring in the nuclear wastelands.
You don't have to have played the first two (although it wouldn't go amiss), as Exodus recaps them both and tells its own contained story. It's hard to feel despair when the apocalypse looks this good.
#13 Returnal
What happens when death itself isn't enough to take you away from where you are? In Returnal, you are a space pilot who has been stranded on an alien planet. The location is constantly changing and has all sorts of mysteries hidden within it. But, the real twist is that for you, death isn't the end. Instead, it just moves you to another part of the planet and forces you to try to push on without dying again. Your journey in this roguelike title will very much be based on how well you do in each run, and all the while, you'll need to learn the truth about the planet, yourself, and how it all ties together.
#12 Ratchet & Clank: Rift Apart
From Insomniac games comes another reimaginement of our favorite iconic duo (step aside Jak and Daxter.) Ratchet and Clank: Rift Apart shares a similar vein to The Avengers, in the sense of two dimensions closing in on each other, causing cataclysmic events. Clank, being the genius he is, repairs a weapon called the Dimensionater. During an attack by Doctor Nefarious, Rachet accidentally shoots the dimensionator causing rifts between the two worlds. Clank awakes in a new world to a female Lombax named Rivet in a completely different dimension. The game was partly inspired by the 1946 Christmas film "It's a Wonderful Life", where different life choices affect the outcome of a person's life. What would Ratchet and Clank look like in a different universe? Instead of going the usual route of an evil nemesis, the creative team decided to imagine alternate worlds.
#10 Red Dead Redemption 2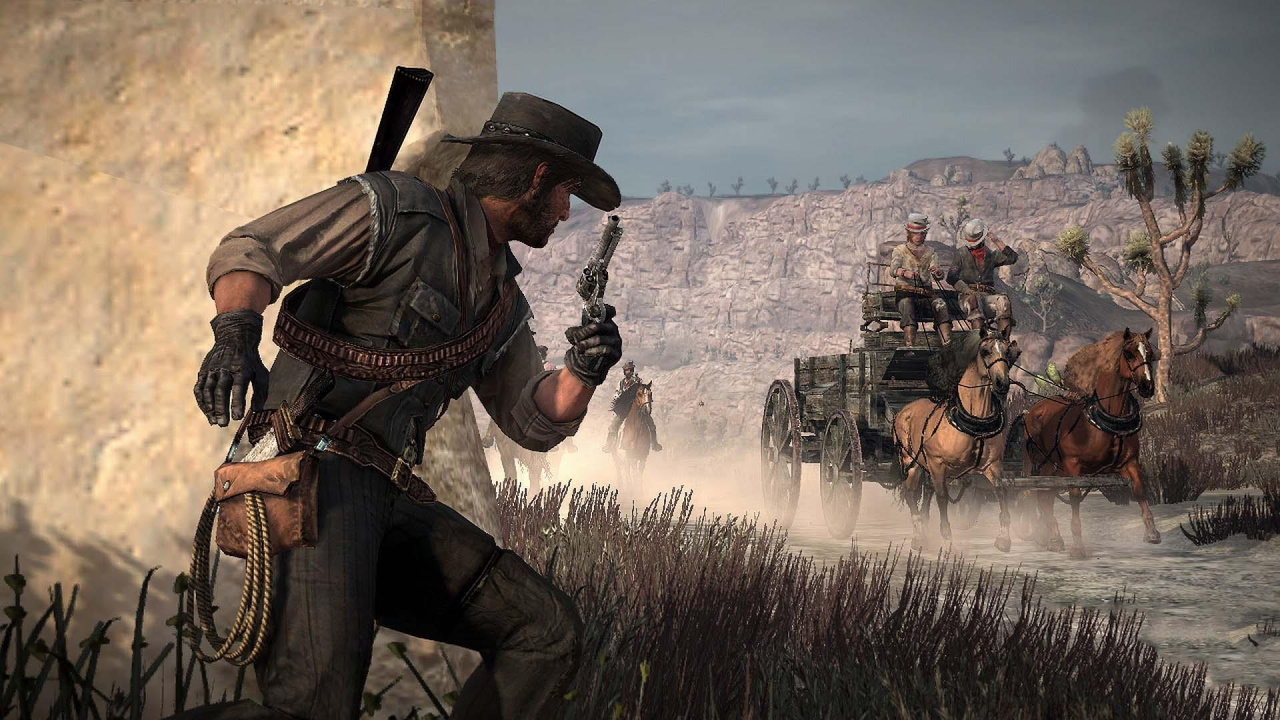 From Rockstar Games comes the second GTA iteration in the wild, wild west, Red Dead Redemption 2. John Marston from the first game makes a come-back in this third (and first-person) shooter experience. There are rival gangs, crooked governmental forces, and other bad guys to take down. Similar to GTA V the game features a bounty system, ensuring that you don't do any funny business (or keep it to a minimum) while traversing the fictional wild-west.
There is also a morality system that rewards players based on doing good deeds. You will get unique treatment at stores and get special items. A Low moral scale also rewards the player with more loot on dead bodies. The game is jam-packed with stuff to do, quirky characters to interact with and epic quests to undertake. When you aren't doing any of that, there is a massive open world for the player to traverse through.
#9 Elden Ring
With contributions by George R. R. Martin, Elden Ring is a spectacular game. FromSoftware's latest RPG brings all the medieval action and magic from Dark Souls but in a massive open-world setting. Your lonely Tarnished soldier will have to fend for themselves learning the secrets of the world in between. Your goal? Repair the Elden Ring and become an Elden Lord.
#8 Doom
Ah yes, there has been a game in the past few years quite like Doom Remake? It's not really a remake, rather it's a completely new game, but still possesses the pizazz that made the first game fun – that is, arcadey fast-paced action. When played on the harder difficulties the game becomes quite strategic and take-downs become essential to gain well-needed ammo and health packs. The little easter eggs and strategic routes make the game replayable – that and just generally becoming better at the game! It's well made and the takedowns feel very rewarding,
#7 Doom Eternal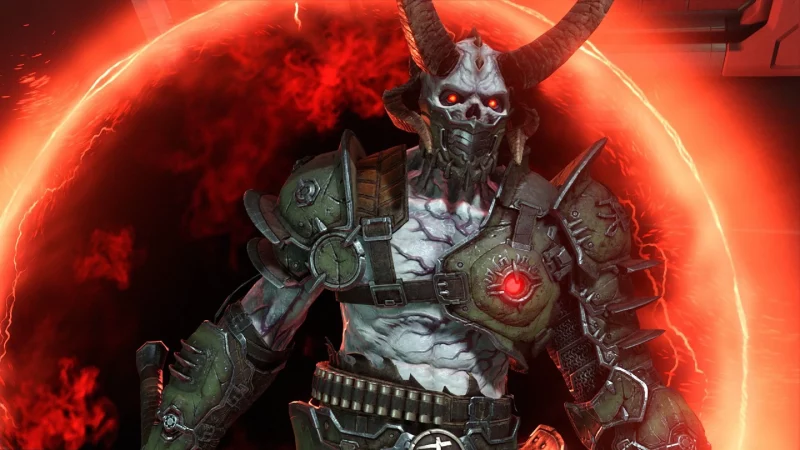 Doom Eternal comes 4 years after the original Doom game. This time around Hell has spilled out onto the earth and has left our blue planet in shambles. Once again it is up to the Doom Slayer to equip his multitude of weapons to take down the forces of Evil. The Doom Slayer has new weapons in his Arsenal. The Supershotgun has a grappling hook which allows for better mobility and grappling takedowns, there is an Energy Sword from the previous game, a retractable blade, the Sentinel Argent Hammer, and a shoulder-mounted grenade launcher. The PS5 version beefs up either the game's graphics or the frame rate which is up to the user to choose.
#6 Grand Theft Auto V
GTA V is the highest-grossing video game of all time, reaching $1 billion in sales within 3 days of its release. But does that mean it's a good game? In terms of expansivity, things to do, storyline, open-world multiplayer, DLC, free updates, and still ever-consistent player base (despite the game releasing just shy of 10 years ago.) My response? A resounding yes!
Play as Trevor, a manic nudist drug addict, Micheal De Santa, a retired bank robber who allegedly died 9 years ago, and Frank Clinton a gang member who now works as a repo man for a car dealership. Each of these worlds collides to create an outrageous storyline. My favorite thing to do in GTA V? Play in first-person mode and run rampant through the city taking on the entire police force.
#5 Dying Light 2: Stay Human
Dying Light 2 expands on the first game, in a larger and bigger environment. There a new tools like a paraglider and new melee weapons. And as usual, takedowns feel awesome. You can push enemies off cliffs, jump over them, and kick them. Slice off arms. The combat feels intuitive and rewarding.
The map is way bigger than the previous games with Skyscraper buildings and apartment blocks which are explorable. The first Dying light also had a massive map but was nowhere near the same as the first one in terms of vertical height. For PS5 you can either choose a performance mode that locks the game at 60fps or other resolution modes which make the game look nice, but lowers the framerate considerably.
#4 Call of Duty Modern Warfare 2019
Released back in 2019, Call of Duty Modern Warfare had one of the best campaigns. It was developed by Infinity Ward who brought back the trust of gamers with classic gameplay and great visuals. Playing it is an intense reminder of the current affairs of today. Its modern setting parallels the world today and the feel of a brewing war in our midst. Despite its controversies, it's still great and robust. Dive into story mode first before multiplayer modes, it helps focus and you get more feel of the game.
#3 Middle-earth: Shadow of Mordor
A seeming sleeper hit Middle: Earth Shadow of Mordor is a 2014 released action-adventure third-person from Warner Bros that is absolutely killer. Seriously, this game and The Last of Us are two of my favorite third-person experiences ever. With it's interwoven lore in the Lord of The Rings Series, stunning takedowns, and enjoyable relic hunting (I feel like with most exploration games I don't enjoy relic hunting that much, but with this game, the law and the unrecoverable areas made me WANT to head out and collect all the relics) fun stealth system and almost God-like battles which make the Uruks run away from you in Terror. You'll have tons of fun sinking hours into this game. What's more, it just makes sense as a console game. I played the second one on PC and was not nearly enthralled as the first one due to the keyboard and mouse set-up
#2 The Last of Us Part 2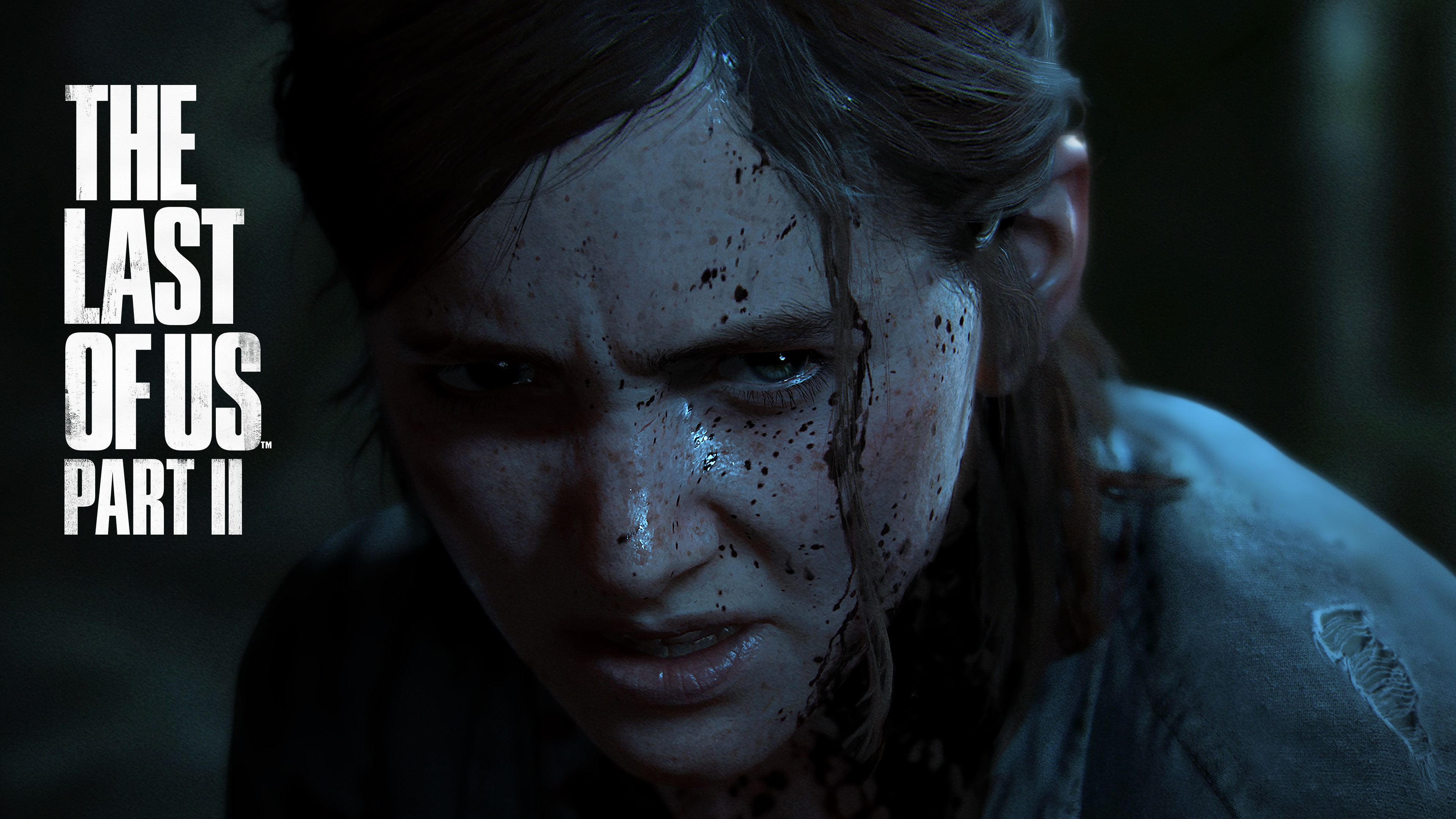 The long-awaited sequel to The Last of Us: Part II was released 2 years ago. This time Ellie and a new playable character, Abby take the forefront. Since the events of the original The Last of Us, Joel and Ellie find refuge in Jackson Wyoming. While the relationship is already strained between two, things turn from bad to worse when Joel and Ellie rescue Abby, the daughter of a murdered surgeon in the previous game.
The game has an atmosphere of desperation, violence, and survival at all costs. The melee combat is brutal and violent, ammunition is scarce, and most of your weapons and items have been either crafted or found in the decaying city of Seattle.
#1 The Last of Us Remastered
Quite possibly one of the best games that I've ever played. The Last of Us Remastered is an intense emotional rollercoaster and fun-packed survival third-person shooter. It tells the tale of Joel a smuggler tasked with escorting, Ellie through a post-apocalyptic zombie Warzone. Humans have been infected by a type of Fungi inspired by Cordyceps, some are worse than others and have been completely blinded by the fungus relying only on sound to locate its prey. And if that isn't bad enough, there are other survivors on the loose looking to capture Ellie for their own gain. Why is Ellie such a prize? Well, that's something you'll have to figure out yourself as you play through the game.
The Last of Us Remastered is an exceptionally well-crafted game and deserves your time and attention. The cover-based action feels reminiscent of the newer Splinter Cell games, the melee attacks feel rewarding and violent and the environment as a whole is very reactive to your character. There is never a dull moment in this game, and you'll likely play this emotional joyride in a single sitting (it's like a book you can't put down)