Video Games in today's day and age have truly crossed the boundaries of artistry and creativity. There are dozens of titles that are nothing short of Technical excellence when it comes to their graphics fidelity. Whether it's the stories in them that grip our hearts or the endless imagination that glues gamers on the screen for hours on end. The Adventure Games genre is comprised of so many legendary titles of different sub-genres, so join us as we discuss its most popular and best games that will surely get you hooked in 2022.
The craftsmanship and dedication put into these cult-classic titles have sky-rocketed their popularity to the point where they are considered the most beloved franchises of their respective fanbases. One can even consider them just as iconic as the Best Resident Evil Games or the Best Telltale Games, which are both equally showered in critically acclaimed appraisal.
What makes the Adventure genre in the industry so special right now is the fact that it primarily consists of video games that captivate and immerse you in their world, as well as storytelling. The cherry on top is either the jaw-dropping visuals or the insanely stylish and fluid combat that will make you hunger for more chaos and freedom.
So without further delay, here is the complete list of the Best Adventure games which have undoubtedly amazed gamers worldwide and will continue to do so, right now, in 2022. Almost all of them are highly accessible across every platform and console, including the PS4, PS5, Series X/S, and PC on Steam.
60. Legend Of Zelda: Breath Of The Wild
Developer & Publisher: Nintendo
Release Date: March 3, 2017
Single-player or Multi-player: Single-player game
We're kicking the list off with one of the most well-renowned games of the current generation. Legend of Zelda: Breath of the Wild acts as the penultimate entry in the long-running franchise. So with the sequel releasing sometime in the upcoming years or so, it only seemed fitting we start with the Pinnacle of the genre.
The game is THE prime definition of the greatest Open Worlds for its time of release. It was the winner of multiple Game of the Year awards in 2017. It was first released on the Wii U, but soon after, it was released for the latest Nintendo Switch and is currently the console's best-selling Open World Adventure game in 2022.
Players once again take control of the legendary hero, Link, as he gets awakened after a century-long slumber with the only task of defeating the destruction caused by the entity known as Ganon and purging his darkness.
Perhaps the most noteworthy aspect of the game that makes it cherishable to this day is its immense creativity and freedom of exploration features. Right after completing the tutorial sequence, players can travel and roam anywhere at any time they want in the world of Hyrule without any restrictions.
The game will not hold your hand at all as you explore hundreds of intriguing puzzles and shrines, as well as challenge strong enemies throughout the massive map.
59. Assassin's Creed Valhalla
Developer: Ubisoft Montreal
Publisher: Ubisoft
Release Date: November 10, 2020
Single-player or Multi-player: Single-player game
Assassin's creed Valhalla serves as the third game to complete the reboot trilogy of the Assassins Creed franchise, which was first started by AC Origins. The main setting takes place in the ancient times of Norse mythology. Players will step into the boots of Eivor, who leads their Viking army across the lands of Ancient England.
The game fully emphasizes the usage of the iconic Wrist Blade from the entire series, letting players know that it still carries the classic traits of Assassin's Creed. There are many ways to customize yourself throughout your conquests as Eivor. You can take down your foes with the Best AC Valhalla Dawn of Ragnarok Weapons.
Furthermore, as you slowly bridge the gap in levels by conquering numerous fortresses and strongholds, players can invest in valuable Skills that will surely help them create the Best Builds in Assassin's Creed Valhalla. The game has two amazing, and content-filled expansions called the Wrath of The Druids & The Dawn of Ragnarok, both covered in our in-depth reviews on them.
So arm yourself with the legendary Odin's Armor Set in Ragnarok and take down mythical beasts and various other calamities as you forge a new destiny with your Viking brethren in AC Valhalla, one of the best adventure games by Ubisoft in the last couple of years.
58. Assassin's Creed Odyssey
Developer: Ubisoft Montreal
Publisher: Ubisoft
Release Date: November 10, 2020
Single-player or Multi-player: Single-player game
Speaking of which, it was befitting to place AC Odyssey in here, too, since it served as the predecessor to AC Valhalla and is still extremely popular with the fanbase as of now. The main setting of the game primarily takes place in Greek Mythology as players take control of either Kassandra or Alexios, mercenaries for hire.
The story is fairly lengthy as players are pushed into various political affairs and evil cult disputes across the lands of Ancient Greece. Alongside all of this, you will also unravel the mystery of the protagonist's family and secrets.
AC Odyssey managed to expand the formula of RPGs from AC origins. The game is traditionally much more MMO-like as you need to farm levels every so often to access new missions. Making it one of the few Best Adventures games to co-exist within the category of Best Grinding Games in 2022.
You will easily sink countless hours trying to perfect your Builds by combining the Best Armor Sets and the Best Weapons in AC Odyssey to shred through enemies with ease. Not to mention there is a varied Skills tree that grants you some of the most overpowered Abilities to spice up your combat style.
57. Immortals Fenyx Rising
Developer: Ubisoft Quebec
Publisher: Ubisoft
Release Date: December 3, 2020
Single-player or Multi-player: Single-player Game
When it comes to discussing the most underrated titles released from Ubisoft in 2022, there is no exception that Immortal Fenyx Rising is the best original adventure and open-world game from them. It is heavily inspired by Breath of the Wild and features the protagonist, Fenyx, a demi-God who ventures forth to save the Mighty Gods of Ancient Greece.
The game features exploration reminiscent of BOTW; the puzzles are multi-layered throughout the world as they encourage you to try different methods to conquer them all. It features robust hack-n-slash combat that compliments very well the different skills that Fenyx can use, such as their Lunge and Shield Dash Attacks.
The story is light-hearted as it is mostly narrated by the witty and charming duo, the Almighty Zeus and the chained Titan Prometheus. So including the Pixar-like animation, the entire game can be a hit or miss for a lot of gamers, but we would still gladly suggest reading our excellent Review of Immortals Fenyx Rising to learn everything about it in a detailed fashion.
The journey of Fenyx's rise to glory can be long and perilous, but with so much charm and wittiness found in the game, we can't help but call it one of the best adventure games with the most endearing experiences.
56. Sekiro Shadows Die Twice
Developer: FromSoftware
Publisher: Activision
Release Date: March 22, 2019
Single-player or Multi-player: Single-player Game
Sekiro is a Hallmark in Fromsoftware's legendary Souls Borne series not only because it has the perfect combat system but also because of its amazing level design set in the semi-open world of Feudal Japan. You will find some of the greatest visuals in the entire overworld of the game.
You, as the Wolf, a shinobi who is tasked with protecting the divine heir by all means and the quest to severe or carry on the legacy of immortality. The lore and storytelling are much more freely accessible to players compared to the previous titles by Fromsoftware, like the Dark Souls series.
The game has so many jaw-dropping locations, such as the sandbox-like Ashina Castle and its outskirts to the breathtaking Fountainhead Palace, and there is no room for how impressive the entire game looks and feels to someone who hasn't played the games.
The rhythmic combat is exhilarating and will keep you on your wits. The trial and error as you defeat challenging bosses like Genichiro will be worth the payoff as with each defeat, you will learn that hesitation ultimately leads to total defeat. Making it one of the best Adventure games to be crafted by famed Director Hidetaka Miyazaki.
55. Kingdom Hearts 3
Developer & Publisher: Square Enix
Release Date: January 29, 2019
Single-player or Multi-player: Single-player Game
Kingdom Hearts 3 serves as the conclusion to the Light versus Darkness saga that started with the events of the first ever game launched back on the PS2. Players once again dive into the various Disney and Pixar worlds as Sora hopes to bring lightness back to them alongside his friends, Donald and Goofy.
The Kingdom Hearts games are controversially known for their convoluted storytelling across so many games that are included with an excellent bundle called the Kingdom Hearts All-in-one package. So if you would like to get context about the other games before playing the third, this is perfect for newcomers to the franchise.
Compared to previous titles in the series, like KH2 or Birth by Sleep, the scope and level design for each of the worlds is insanely massive. It is the point where they occasionally have Hub worlds included in them with massive sandbox areas for exploration like the Caribbean Seas and San Fransokyo from the beloved Big Hero 6.
Players looking for the best charming and wholesome adventure game to play in 2022 can look no further than Kingdom Hearts 3, and if you give the series a chance, the story just might be something you can digest because the action combat is just full of style and extravaganza.
54. Concrete Genie
Developer: Pixelopus
Publisher: Sony Interactive Entertainment
Release Date: October 8, 2019
Single-player or Multi-player: Single-player game
Concrete Genie is an indie title that is developed by Pixelopus, a small-time studio under the wing of SIE. The game is considered to be one of the few criminally underrated titles on the PlayStation 4 & 5. It uses a unique gameplay element that allows players to draw using the main protagonist's brush and cute project monsters.
You as play as Ash, who is fond of drawing and sketching doodles in his notebook. He gets bullied and chased one day to an abandoned Lighthouse where he befriends his first ever drawing genie, Luna. Throughout the game, you will control Ash to solve various puzzles by illustrating genies on walls and guiding them.
The game is relatively short, spanning only 5-10 hours to fully complete for the Platinum Trophy. The game is insanely light-hearted and joyful as you create numerous adorable genies and customize them to your liking.
If you haven't already, we highly recommend checking Concrete Genie out as it is one of the few best Adventure games on the market that will leave you smiling with its visual-storytelling gameplay.
53. Journey
Developer: thatgamecompany
Publisher: Annapurna Interactive
Release Date: March 13, 2012
Single-player or Multi-player: Both
'Journey' is yet another excellent indie game that gets foreshadowed under gamers' eyes. The game is hard to describe as it is one of those adventure games that provides one of the best relaxing and comforting experiences that you wouldn't begin to imagine you'd feel in a video game in 2022.
The game features a robed figure whom you guide across the Desert lands to the peak of a mountain. Throughout your venture, you will have the chance to come across players who will aid you in your journey under random circumstances via being a part of your puzzles and other sequences.
The world in the game is extremely beautiful. It is filled with encounters and moments where sweeping across the magnificent landscapes feels like a spectacle and surreal. At the end of this entire perilous and breathtaking journey, the game tops it off with an ending that lets you enjoy the solace and magic of indie titles.
Making it a befitting game for gamers who are either simply looking to play a purely artistic indie game for the first time or to play the most relaxing and best adventure games in the indie catalog.
52. Star Wars Jedi Fallen Order
Developer: Respawn Entertainment
Publisher: Electronic Arts
Release Date: November 15, 2019
Single-player or Multi-player: Single-player game
Jedi Fallen Order takes place in the iconic Star Wars Universe, and the best part is that it is an adventure game that is completely standalone and is its storytelling. It means that, for the most, players can freely enjoy the game without having to watch its cult-classic movies or know any tidbits about the lore.
You play as Cal Kestis, who is a Jedi Padawan being hunted by the Sith fleet. You are soon recruited by the Jedi Knight resistance and are thrown on a collision course adventure across the Galaxy in various worlds.
The gameplay is the real meat of the deal here, as the combat takes a similar approach to the Souls Borne formula of being unforgiving and challenging, but thankfully you can adjust the difficulty to your liking. The exploration is much like Metroidvania games, where players will occasionally backtrack and locate hidden discoveries and secrets they couldn't access before, making it very much multi-layered in style.
Cal can be customized with various Jedi force powers that can be used to greatly improve your capabilities in combat, not to mention your Lightsaber can be upgraded too. The sequel is confirmed and on its way sometime soon next year, and there is a free upgrade to Jedi Fallen Order on Next-gen consoles, so grab it now and witness the best adventure games in the Star Wars Universe.
51. Life Is Strange Remastered Collection
Developer: Dontnod Entertainment
Publisher: Square Enix
Release Date: January 30, 2015
Single-player or Multi-player: Single-player game
When it comes down to enjoying purely narrative games, there is none other to do it well than the critically acclaimed Life Is Strange games. The first game was initially released back in 2015, with a prequel tie-in title released in 2017 called Life is Strange: Before the Storm, which focused on Chloe, another central character.
In the original LIS, you play as High School student Max Caufield who finds herself thrown into a bizarre series of events after discovering her newfound powers. Together, alongside Chloe Price, Max will use her powers to unravel the dark mysteries and secrets buried within her town and save it from a major catastrophe.
Both the original and Before the Storm is fully playable right now in one package, thanks to the recently released Remastered collection. If it is your first time checking out a Graphic Novel Adventure game, then your best bet is to jump into both games right now in 2022 and maybe check out its other spinoffs and sequels too.
50. Deus Ex Human Revolution
Developer: Eidos Montreal
Publisher: Square Enix
Release Date: August 23, 2011
Single-player or Multi-player: Single-player game
The Deus Ex games were the original cyberpunk-genre games that allowed players to seamlessly undertake their tasks and missions while adding in a plethora of CRPG mechanics. Deus Ex Human revolution ushered in a new era for the series as it combined First Person action with stealth mechanics and a wide variety of customization.
You play as a former security officer, Adam Jensen, who sounds just as badass as he might look at first glance. Players will uncover secrets and track down an ominous organization that attacked Jensen in the opening hours of the game. The narrative is deep and thought-provoking as it explores themes of transhumanism & democracy.
Players can interact with NPCs throughout their adventures in any way they see fit, and making choices during the lengthy dialogue sequences makes for it to be one of the best adventure games of 2022 that aged like fine wine. It also got a spin-off game as well as a sequel in 2016, Deus Ex Mankind Divided.
49. Bioshock: The Collection
Developer: Blind squirrel games
Publisher: 2K Games
Release Date: September 13, 2016
Single-player or Multi-player: Single-player game
In hindsight, many gamers around the Globe would agree that the Bioshock games are a true testament when it comes to the Best Pure Adventure games in 2022. They are essentially first-person shooters that allow freeflow combat and seamless level designs, many of which include hordes of challenging enemies.
The First Bioshock game is iconic for its time, taking place in the sunken city of Rapture in 1960 as play as Jack, who uncovers mysteries and buried terrors deep within the lost metropolis, with an epic showdown against one of the most well-known Video Game Villains, Andrew Ryan.
The 2nd game follows a similar suit to the first one, the only difference being as you play as one of the more unique characters of the game, The Big Daddies. However, Bioshock Infinite has a completely refreshing setting and story to embezzle players with its steampunk influences and lighthearted tone. All of these games are relatively cheap on sale and available all together in the Remaster collection of Bioshock.
48. Fallout 4
Developer: Bethesda Game Studios
Publisher: Bethesda SoftWorks
Release date: November 10, 2015
Single-player or Multi-player: Single-player Game
The Fallout Franchise is perhaps one of the most well-recognized Western RPGs in the Industry. Fallout 4 is beloved by many fans, almost equal to the critically acclaimed Fallout New Vegas. FO4 was succeeded by the controversially-released, Fallout 76, which brought the reputation of the series to a disastrous trainwreck.
The Post-Apocalyptic world of the game is littered with activities to do and secrets to unearth. Throughout your adventures on the map of Commonwealth, you will find various NPCs and Companions like Hancock, Cait, and your best friend, Dogmeat. These characters can all be modified to improve their Companion Perks.
The RPG elements of the game are deeply rewarding and engaging. You will often be taking part in the chores of the complex Factions in the game, such as the Railroad Clan. But most importantly, taking down fearsome foes like the Deathclaw is more than enough reason to play it soon as possible because Fallout 4 lives up to be one of the best Adventure games crafted by the brilliant minds at Bethesda.
47. A Plague Tale Innocence
Developer: Asobo Studio
Publisher: Focus Home Interactive
Release Date: May 14, 2019
Single-player or Multi-player: Single-player game
A Plague Tale Innocence is a Third-Person linear adventure game that focuses on stealth and survival mechanics. The game received a next-gen version for the Series X and PS5 on July 6, 2021. Players take control of two siblings, Amecia and her little brother, Hugo, who need to survive a plague of deathly rats in their lands.
The game offers striking visuals that make you wonder how it was even considered an Indie title. The approach to the puzzles and level design all provide a deeply engaging experience that ties in relatively well with the finale. It is all topped off with excellent Stealth-based combat that allows Amecia to use the sling and other cool gadgets.
The sequel, Plague Tale Requiem, is set to release on Next-Gen platforms and PC on October 18, 2022. So it brings us to say that why we strongly recommend you check out the game since it deserves every praise it gets for its dramatic yet heartwarming narrative and gameplay.
46. The Elder Scrolls V: Skyrim
Developer: Bethesda Game Studios
Publisher: Bethesda Softworks
Release Date: November 11, 2011
Single-player or Multi-player: Single-player Game
It is without a question that Skyrim became a trendsetter Video Game when it was first released back in 2011. It took the gaming world by storm, and still, a decade later, in 2022, the game is hands down one of the best Open World Adventure titles. It is one of the gaming community's most beloved franchises.
The world of the game is insanely massive; at times, it even feels like a Single-player MMO because it is constantly evolving and shifting. Players can gear themselves up with Light Armor and other unique tools, such as the powerful Bound Bow to hunt down and defeat powerful creatures and foes like the ferocious Dragons.
Survival of the fittest speaks high volumes in the game as you will need to master important aspects like learning to use Alchemy and Making Gold to stand a chance out on your dangerous adventures. Even if it's your first time diving into the game, Skryim will easily keep you hooked for hours on end, especially because it has one of the largest modding communities in the world on NexusMods.
45. Alan Wake Remastered
Developer: Remedy Entertainment
Publisher: Epic Games
Release Date: October 5, 2021
Single-player or Multi-player: Single-player game
Next up is a title that most hardcore gaming fans might know of, the classic known as Alan Wake. It is an Action-Adventure Third-Person game that mixes up a twist on Noir Horror. The game was initially released back in 2010 for the Xbox 360, but after all these years, it is now faithfully remastered for Next-Gen consoles.
Enter the world of Novelist Alan Wake, whose entire world is suddenly turned upside down as he is plunged into a chaotic and terrifying world where darkness consumes all. It is now up to Wake to discover the whereabouts of his wife, Alice, as well as investigate the dark and eerie secrets of the town of BrightFalls.
The gameplay and combat are heavily centered around players using the flashlight to fend off monstrous enemies and guiding Alan across the countryside locale of the town. You will need to manage your battery consumption on the torch as well as ammunition on weapons. It isn't too scary at all, so it is pretty much accessible for all types of players who can get through most of the usual ambient horror elements.
43. Super Mario Odyssey
Developer & Publisher: Nintendo
Release Date: October 27. 2017
Single-player or Multi-player: Both
Most gamers heavily look back on Mario as the single best platformer game that revolutionized the industry back in mid of 1985 with the first Super Mario Bros title. Super Mario Odyssey takes the series to brand new heights. In contrast to past entries like 3D World, Odyssey is an Open-ended sandbox platformer made for hardcore fans.
The game was heavily praised for its intuitive puzzle designs and, most importantly, the sheer level of variety and scope in each one. It became a testament to how far the series has come and that the legacy of the franchise isn't fading away anytime soon with how much popularity and appreciation it has garnered.
There is a lot more verticality in this game than any other Mario game ever made. Using Cappy, your new sidekick in Odyssey, to transform and gain multiple new abilities to combat Bowser and his goons or to solve puzzling sections feels refreshing and insanely fun.
If you are still hesitant to pick up a Nintendo Switch, then Mario Odyssey might be the deal-maker here because it is easily one of the best Mario adventures tailor-made for that console in 2022.
42. Monster Hunter Rise
Developer & Publisher: Capcom
Release Date: March 26, 2021
Single-player or Multi-player: Both
The Monster Hunter series has come far and wide, from the games being only available in Asia to gaining landslide popularity with the Western audience. Monster Hunter Rise was initially released on the Nintendo Switch but now has a dedicated PC port as well as the latest expansion DLC, Sunbreak, that has players hooked on the grind.
Unlike Monster Hunter World, Rise has a completely different setting, use a new engine, and provides various overhaul and changes to the gameplay. There are so many Weapons in MHR to choose from, including the likes of the mighty Greatsword and the deadly range Heavy Bowgun, which is excellent for hunting down the annoying flying monsters.
You will sink countless hours trying to craft the Best Builds in Sunbreak to hunt bosses like the Bullfango or the challenging Elder Dragons like Malzeno. So sharpen the Affinity on those Dual blades and dive headfirst into the world of MHR because looting for monster parts and crafting the Best Armor Sets is key to the progression.
41. Psychonauts 2
Developer: Double Fine
Publisher: Xbox Game Studios
Release Date: August 25, 2021
Single-player or Multi-player: Single-player game
Psychonauts 2 is the sequel to the first game released back in 2005, and more than a decade later, the 2nd game was finally released thanks to the support from Xbox Game Studios. The game takes place in different people's minds, and the level design feels like a continuation of the original story but without the same writing.
Players can witness the entire world from the perspective of each person and delve into their psyche and trace their internal problems, motives, and actions. These traits shape the worlds and levels you explore as they are based on the themes of their mental stability.
Each of the structures and puzzles in each level provides clues to figuring out their subconscious; the NPCs residing in them as well as the overall gimmick too. You will ultimately go through several encounters, each requiring you to make full use of these same gimmicks to complete them with ease.
It makes for Psychonauts 2 to be one of the few greatest modern platformer adventure games released in the last year and still beloved right now in 2022. Furthermore, we highly encourage you to play the first one too.
40. Yakuza 0
Developer: Ryu Ga Gotoku Studios
Publisher: SEGA
Release Date: March 12, 2015
Single-player or Multiplayer: Single-Player Game
The Yakuza franchise is known for its hardships in selling to the Western Audience during the mid-2000s. It got to the breaking point where Yakuza 5 was available as a digital copy only on release. However, it is safe to say that Yakuza 0 reinvigorated the series to new heights and became the most popular title in the mainline entries.
Players take control of the Legendary, Kazuma Kiryu, as well as the Mad Dog of Shimano, Goro Majima. So unlike any other past Yakuza title, the game has dual protagonists, each with their intertwining backstories and drama. The story and setting are the origins of these characters before their inevitable personas in the latter games.
The action brawler combat in Yakuza 0 is full of fun and joy. There is nothing better than swinging motorbikes at thugs with Kiryu's overpowered Beast style or stylishly break dancing over gang members as Majima. The cities of Kamurucho and Sotenbori are faithfully designed from the ground up to fit the nostalgic 90s era to perfection.
The game has the most endearing yet kickass stories out there. It is RGG Studio's crowned jewel in their series and even in 2022, as well as one of the best sandbox adventure games with badass beat-em-up combat.
39. Resident Evil 4
Developer & Publisher: Capcom
Release Date: January 11, 2005
Single-player or Multi-player: Both
The Resident Evil games are no joke when it comes to providing the most terrifying and action-packed horror adventures, even in 2022. However, it is a given fact Resident Evil 4 is one of the greatest entries in the series to date. The game is much more action-oriented rather than the traditional horror style the series is known for, plus RE4 also reintroduces the mercenaries online mode, a returning feature from RE3 Nemesis.
Players once again reprise the role of the veteran protagonist in the series, Leon Scott Kennedy, as he is tasked with the sole mission of rescuing the US President's daughter from a satanic cult at a remote location.
The game is heavily known for its fantastic storytelling, combat sequences as well as endless replayability factors. Not to mention the unique enemies and encounters keep the pacing of the game fresh at every interval.
The variety of weapons at Leon's disposal to take down horrific bosses such as El Gigante or Verdugo will leave you craving to battle them again with a new strategy and technique. Plus, with the remake soon on the way next year in March, this is quite easily one of the best moments to experience the masterpiece in adventure games.
38. Outer Wilds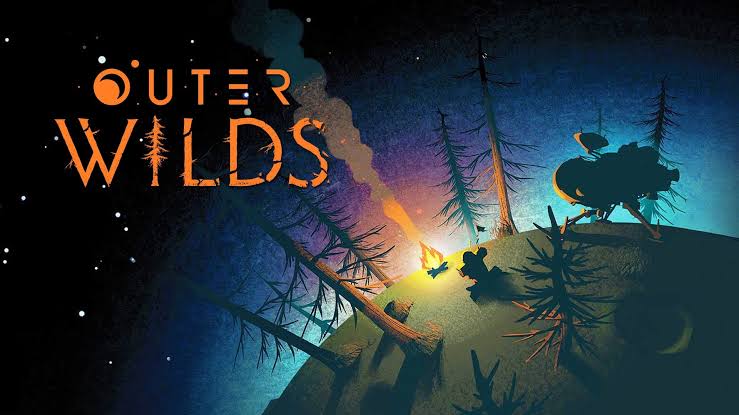 Developer: Annapurna Interactive and Mobius Digital
Publisher: Annapurna Interactive
Release Date: October 15, 2019
Single-player or Multiplayer: Single-Player Game
Not to be mistaken with the Action RPG, Outer Worlds from Obsidian Entertainment. The Outer Wilds is all about exploring the vast unknowns of the Solar System and discovering what kind of secrets and mysteries each planet you visit holds. It is jaw-dropping when you realize so much attention-to-detail when into it at every core.
The various planets that players may choose to explore out on foot may hold incredible and thought-provoking secrets that progress you through the main story. So in each puzzle or secret that you unearth, you will find yourself getting amazed and stunned by the direction of its bizarre oddities.
Not to mention, you will come across many strange yet friendly NPCs on your travel who will shed more light on each habitat you're on and its lore. However, be careful as time progresses; so will your chances of encountering terrifying and larger-than-life extraterrestrial species whom you will most likely need to avoid at all costs.
So hop into your spaceship, traverse beyond the galaxy, and see what awaits you in one of the best Space Adventure indies in 2022, Outer Wilds.
37. Nier Automata
Developer: Platinum Games
Publisher: Square Enix
Release Date: March 7, 2017
Single-player or Multi-player: Single-player Game
Nier automata is a melancholic and emotional adventure across a drab and post-apocalyptic world where you go on an emotional journey with our three protagonists, namely 2B, 9S, and A2. It is why Yoko Taro, the creator gets so much appraisal for making one of the greatest action-adventure games, still popular in 2022.
You view the world differently from each of the protagonists' perspectives as more and more of the narrative is revealed through the carefully placed cryptic lore that makes more and more sense once you complete the first 2 playthroughs of the game. 2B is easily one of the recent iconic faces in gaming with her robotic yet endearing demeanor and her character development with her partner; 9S is one of the best things in the medium.
The brilliant story is complemented by the beautiful music leading to some of the most atmospheric and breathtaking moments in gaming as you see our characters go through inner changes and have a mental conflict between duty and emotions with beautiful orchestral music playing in the background.
One of the tracks in the game "Weight of the world" is one of the most meaningful and beautiful things ever composed as it brings closure to various character arcs spanning hours and hours of gameplay and is an absolute love letter to everyone who went through the journey of completing the game.
36. Far Cry 6
Developer: Ubisoft Toronto
Publisher: Ubisoft
Release Date: October 7, 2021
Single-player or Multi-player: Both
Far Cry 6 is the sixth entry in the long-running series of games from Ubisoft. They are one of the leading franchises of the company that are most well-known for their high-octane gameplay, as well as a few of the most legendary villains in gaming, including Vaas Montenegro from FC3 and Pagan Min from FC4.
The game takes place on the exotic island of Yara in Mexico. You play Dani Rojas, who is enlisted in the rebellious faction of the guerilla fighters in hopes of liberating the Island from Anton Castillo's reign of terror; he is the main antagonist of the game, played by the famous actors in the Hollywood TV Biz Industry.
Players will find themselves often hunting down the Hidden Weapons in Far Cry 6, plus not to mention and you can travel around the map in style with awesome Rides that you can acquire too. It is by far the largest customizable game in the series so far that you can create the Best Builds for Dani to destroy enemies in guts and glory.
If you've played the previous games, you will know that the Far Cry games are quite a unique Open World Adventure titles produced by Ubisoft in 2022, as said in our in-depth Review of Far Cry 6.
35. Gris
Developer: Nomada Studio
Publisher: Devolver Digital
Release Date: December 13, 2018
Single-player or Multi-player: Single-Player game
When it comes down to it, GRIS is easily one of the greatest adventure indies of the modern era in 2022, as it combines a gorgeous art style and one of the most gripping sequences. The Semi-3D puzzle platforming sections all provide an intriguing and articulate experience for all gamers who play it for the first time.
The storytelling of GRIS explores the nuanced themes of struggle and rebirth. The magical and dream-like journey of our protagonist showcases the story of vividly evolving emotions as she keeps moving forward to regain her voice and stature. It is further left to open interpretation, as one might guess during the finale.
The game has one of the most enchanting and jaw-dropping climaxes that will make you applaud in happiness. All of these aspects are just a layer of a testament to how many appraisals the game received. It won numerous awards in 2019, many of which were for its masterpiece art direction, which is well-deserved.
34. Sleeping Dogs
Developer: United Front Games
Publisher: Square Enix Europe
Release Date: August 14, 2012
Single-player or Multi-player: Single-player Game
Sleeping Dogs was released back in 2012 for the PS3 and Xbox 360, becoming one of the most underrated sandbox Open World games with a crime drama adventure narrative, still adored in 2022. The game was remastered with a definitive edition for the newer consoles like PS4 and plays great to this day.
The primary setting of the game takes place in present-day Hong Kong, where gang wars and crimes are at an all-time peak as of late. You as play as Undercover Cop Wei Shen, who gets caught while making a deal without the HK Police's authorization, and so he is forced to infiltrate and take down one of the biggest gangs in the city.
Sleeping Dogs features an extensive array of activities to do as well as fantastic and robust combat. The game can be called a Grand Theft Auto clone but it is far from that in any way. It has a gripping story and gameplay that skip a beat in making you feel immersed in its world. Beating up two-bit gang members using your Kung-fu-inspired moves feels extremely cool and satisfying to pull off.
33. Dying Light 2
Developer & Publisher: Techland
Release Date: February 4, 2021
Single-player or Multi-player: Both
Fans of survival games are in luck as Dying Light 2 fulfills the fantasy of a post-apocalyptic world that promises the best adventure for survival horror fans in 2022. The game is a sequel to an already perfect first title that nailed everything, down from the insanely fluid parkour to the First-person combat and gameplay progression.
The game offers various subtle RPG elements like learning to craft the Best Weapons in Dying Light 2 as well as investing in the Best Skills to get amazing abilities to help you in combat greatly. There are even plentiful secret and comical Easter Egg Weapons, which include the hilarious Finger Gun and the Mistress Sword.
Traversal with or without your friends in Co-op is insanely fun as you can parkour your way across the metropolitan landscape of Villedor or take it to the skies with your very own Paraglider. The possibilities are endless to Farm XP, so grab a friend and jump into Dying Light 2 and survive against its menacing world.
32. Tiny Tina's Wonderlands
Developer: Gear Box Software
Publisher: 2K Entertainment
Release Date: March 25, 2022
Single-player or Multi-player: Both
Tiny Tina's Wonderlands is a spin-off title that takes place in the Borderlands universe. It was the next entry in the franchise after  Borderlands 3 in 2019. The game is a first-person looter shooter that incorporates several elements from its mainline series but with the added twist of deep and complex RPG aspects.
Players can choose from a variety of badass Classes that are tailor-made for a specific playstyle for each player. Throughout the game, you will be able to hunt down tons of the Best Legendary Weapons and Spells, which you will use to craft the Best Builds to aid you in high-octane combat.
These overpowered builds are fleshed out heavily, including the likes of the SporeWarden and the Graveborn. The game is best suited to play with friends as it supports up to 4 players in online and local co-op for added fun and mayhem. You can learn more about each structure of the game in our Review of Tiny Tina's Wonderlands, one of the few best looter shooter adventure games released this year in 2022.
31. Control
Developer: Remedy Entertainment
Publisher: 505 Games
Release Date: August 27, 2019
Single-player or Multi-player: Single-player game
Taking place in the same Universe as Alan Wake, Control is yet another mystique title created by the brilliant minds at Remedy that focuses on fast-paced third-person gameplay mixed with supernatural elements.
You play as the woman named Jesse Faden, who can access her entity known as Polaris; together, you investigate the bizarre occurrences at the Federal Bureau of Control (The FBC). Your job is to track down your Brother, Dylan, who was taken captive by the company. However, the game is pretty vague on the storytelling aspect.
But by all means, it is extremely smooth and awesome to play as the combat is fleshed out with various powers unlocking gradually as you progress through the game, like Levitation and the ability to launch objects.
Most of the narrative is told through the multiple collectibles found in the game, which turns off quite a lot of gamers who play it for the first time. But if given a chance, Control may easily become one of your favorite action-adventure games that, quite frankly, deserves all the more love and attention in 2022.
30. Ori And The Will Of The Wisps
Developer: Moon Studios GmbH
Publisher: Xbox Game Studios
Release Date: March 11, 2020
Single-player or Multi-player: Single-player game
Ori and the Will of the Wisps is a direct sequel to the first game released back in 2015. Will of the Wisps was massively appraised upon release, becoming one of the best and highest-rated platformer adventure games released in 2020 that still gets showered with love in 2022.
The game has a similar feel and level design to a Metroidvania-like Hollow Knight. The gameplay is carefully designed so that each platforming section, along with combat, flows rhythmically with enough skill. Compared to the first game, the levels are much more multi-layered than ever, with interconnected zones to flesh them further out.
The storytelling is all visually depicted, and hits like a truck considering the emotions and weight in each scene feel provocative and engaging. If you still haven't, we strongly recommend playing through the first game to truly feel the magic and captivity that Ori and the Will of the Wisps will bring to its adoring fans.
29. Days Gone
Developer: Bend Studio
Publisher: Sony Interactive Entertainment
Release Date: April 26, 2019
Single-player or Multi-player: Single-player Game
Days Gone is an Open World survival game that was first exclusively released on the PS4 before inevitably releasing on PC via Steam. Throughout the game, you will battle hordes of Zombies known as the 'Freakers' who have different types, as well as many other satanic cultists and survivalists roaming out in the world.
You play as Deacon Saint John, an ex-biker gang member who lived to settle down with his wife, Sarah but soon an outbreak strikes the world, prompting him to let her evacuate without him. So it is now up to him and his buddy, Boozer, as you investigate her whereabouts and solve various tasks of this unforgiving world.
The main highlight of the game is the Horde Battles which are the most joyful and adrenaline rush activities in the game alongside riding your bike through the trails and tracks of Oregon.
The game has faced some major issues in the past, but it might be good to give it a chance if you haven't since it is easily one of the more underrated adventure games on the PS4, and Bend Studio worked effortlessly to polish it to the best in 2022 with the PC port release.
28. Tales Of Arise
Developer: Bandai Namco Studios
Publisher: Bandai Namco Entertainment
Release Date: September 9, 2021
Single-player or Multi-player: Single-player Game
Tales of Arise is the latest entry to the long-running Tales of Games. The game is equal in popularity and prestige to the other top dogs in the genre, such as the Final Fantasy and the Dragon Quest franchises. The game lets you control a variety of characters in combat, plus it offers rich and gripping storytelling as the cherry on top.
You mainly play as Alphen, who meets a kidnapped woman named Shionne. Together you travel across the lands of Dhana to purge it from the cruelty and savagery of the Republic of Rena. Throughout their journey, you will come across various allies who will join your party. Each with distinctive personalities and backstories.
The combat is the most action-like than ever before, as it emphasizes synergy attacks from your party mates. It was also awarded the Best JRPG award at 'The Game Awards' 2021, which shows exactly that it is one of the few best modern JRPG games to play right now in 2022, whether you're a fan or a newcomer to the series.
27. Gravity Rush 1 And 2
Developer: Japan Studio (Team Gravity)
Publisher: Sony Interactive Entertainment
Single-player or Multi-player: Single-player games
For those not aware of these criminally underrated gems by the creative mind of Keichiro Toyama, the same director behind the legendary Silent Hill on the PS1. Gravity rush 1 was originally a PS Vita exclusive before it got remastered for the PS4, and then a sequel followed it soon after in 2017, which had better commercial success.
You are introduced to Kat, a strange girl who awakens to find herself having the ability to shift Gravity as she sees fit thanks to the bonds with a magical cat, whom she names Dusty. Together, you will explore the various vast places and the world of Heksville, a floating city with different boroughs.
Both Kat and Dusty will protect the world from the corruption of the menacing 'The Nevi', the main adversaries of the game who are essentially creatures manifested from the Storms. Along the journey, you will meet various characters like the rebellious girl, Raven, who is another shifter like Kat and has a prominent role in the 2nd game.
Both of these awesome games are dirt cheap nowadays on the PSN Store, and they always are well-deserving of any sort of love and appreciation, even in 2022.
26. God Of War 2018
Developer: Santa Monica Studio
Publisher: Sony Interactive Entertainment
Release Date: April 20, 2018
Single-player or Multi-player: Single-player Game
Of course, we had to include the winner of multiple Game Awards God of War (2018). The entire franchise up till this point had been one of gaming's most iconic series on the Playstation. Kratos was the poster boy and one of the most well-known protagonists, so a fourth game being announced so suddenly shook the whole world.
However, the main key differences are that the game is much more subtle in its approach. It is no longer a fast-paced hack n slash game. Kratos is much more laid-back in comparison to his rageful counterpart in previous entries and also has a son called Atreus.
God Of War 2018 excels in every department, whether it's the heartfelt and cinema-like narrative or the much more grounded combat, as well as the Linear Open World mechanics to keep you hooked.
With the highly anticipated sequel, Ragnarok, right around the corner, playing GOW 2018 right now in 2022 is the perfect opportunity to experience one of the greatest that Playstation has to offer. Furthermore, the game is also available on PC via Steam, and it is looking the greatest it has been on there.
25. Ghost Of Tsushima
Developer: Sucker Punch Productions
Publisher: Sony Interactive Entertainment
Release Date: July 17, 2020
Single-player or Multi-player: Both
Ghost of Tsushima is yet another banger Open World adventure that game found its way taking over the industry by storm upon release, and now, in 2022, it is one of the best-selling games for PlayStation 4 & 5. The game takes place during the feudal times in Tsushima Island, Japan, which is invaded by the conquering Mongol army.
You play as Jin Sakai, who is a Samurai that survives the onslaught head-on against their leader, Khotun Khan. Jin is forced to retreat and choose other plans to fend the invasion off, soon becoming the Ghost Of Tsushima. You can travel the lands of the Island and take down various Mongol Outposts and discover other littered secrets.
The game is a visual treat for sore eyes as every locale and area in the game is brimming with beauty and gorgeous views. You will be spending countless hours tinkering around with the Photomode feature. Who knows, you might get a friend or two to join you in the Legends Multiplayer mode, which is completely free-to-play.
24. Spider-Man Remastered
Developer: Insomniac Games / Nixxes
Publisher: Sony Interactive Entertainment
Release Date: November 12, 2020
Single-Player or Multiplayer: Single-Player Game
Sony was on a roll in 2018 with another near-perfect game, such as the Spiderman-Man title, crafted by Insomniac Games, who have faithfully crafted the experience. The game was fully remastered and released in the Mile Morales Bundle on the PS5, and now, with the help of Nixxes, the game is accessible on PC in all its glory.
The game provides amazing beat-em-up combat full suited with Peter's intuitive gadgets and tools to use at your disposal freely. The story is relatively short, but it manages to hook you in for a long ride while having some minor hiccups by switching the driving seat to some other characters in-between story missions.
Many iconic Villains from the universe appear and have spectacular boss fight sequences that are equally praise-worthy as the rest of the game. It runs astoundingly well thanks to the power of the PS5 and even more so now that it's making headlines via the PC port. It is arguably the best adventures games to play right now in 2022.
23. Dragon Quest XI: Echoes Of An Elusive Age S
Developer & Publisher: Square Enix
Release Date: July 29, 2017
Single-player or Multi-player: Single-player Game
The Dragon Quest franchise was one of the foundations that paved the way for many modern JRPGs alongside Final Fantasy. The 11th entry in the series was released initially in 2017 but later down the line, received a definitive edition complete with enhancements and upgrades to the core game experience.
The game is extremely newcomer-friendly as each DQ game has a completely different setting. DQ11 S follows the story and journey of our protagonist, the Luminary, who is tasked with venturing forth the ancient Yggdrasil tree and restoring balance to his fate. Along the journey, you will come across many charming and intriguing characters who will join your party for the ride.
The gameplay is the classic turn-based style but what makes it so captivating is the simplicity and exploration. It is appreciated by many fans because it maintains the spirit of the previous titles in the series, thus making DQ11 a must-buy for all JRPG fans, especially now that the Definitive edition is the best bang for your buck in 2022.
22. Stray
Developer: Bluetwelve Studio
Publisher: Annapurna Interactive
Release Date: July 19, 2022
Single-player or Multi-player: Single-player game
Stray was released just recently and instantly became the talk of the industry with its adorable and wholesome adventure as players could finally play as a stray cat in a video game in 2022. It is hard to imagine that the game is an indie title despite the quality and effort put in that makes it look like a AAA title quality.
The game surprisingly offers quite snappy and responsive controls when playing as the Cat. As you solve puzzles throughout the game, you will most likely stumble upon various secrets and collectibles such as the Digicodes and the Memories that you need to collect to learn more about the world.
The story is unique as it takes place in a dystopian world of Robots where Humans have seemingly gone extinct, and now you must solve the mystery behind their disappearance. The Ending of Stray will leave you with some bittersweet feelings but overall, it is a game that you wouldn't want to miss at all. You can also take the time to read our brief Review on Stray to see if it is worth your investment.
21. Uncharted 4
Developer: Naughty Dog
Publisher: Sony Interactive Entertainment
Release Date: May 10, 2016
Single-player or Multi-player: Single-player game
Quite arguably, one of the greatest adventure games that existed on the PS3 was the Uncharted games. These games were PlayStation's spin on Indiana Jones.
But with UC4, it is easily recognizable how it was one of 2016's hottest games that have managed to receive a remastered version in 2022 with the recently released Uncharted Legacy of Thieves bundle on the PS5.
If you're already familiar with the series, then Nathan Drake shouldn't be a stranger at all. He is easily one of the most charismatic and eccentric video game protagonists in gaming, adored by all gamers. Alongside Kratos, he has truly become one of the few legendary characters from PlayStation.
Including the previous three installments, which are a must-play too, Uncharted 4 is a game that should not go missable if you still haven't played it yet. It has one of the best, most well-written stories ever made. It is only a matter of time before the Legacy of Thieves edition hits PC soon so players on that platform can enjoy it too.
20. Hollow Knight
Developer & Publisher: Team Cherry
Release Date: February 24, 2017
Single-player or Multi-player: Single-player game
Hollow knight is one of the best adventure games that you'll ever play on your gaming device in 2022. It is a true Hallmark not only in the indie genre but also in the whole gaming industry. The game is developed by only three people and offers more quality content than most Triple A titles.
Hollow Knight provides one of the best adventures across its setting of Hallownest. You will find themes of Life and Death during your journey in the different areas of the world. Additionally, these locations are backed by dynamic soundtracks that further amplify the ambiance of this game.
You will also meet a lot of NPCs during your adventure; each of them will provide you with certain information about the game's narrative. The combat in Hollow Knight is also well worth praising as it proves to be one of the smoothest combat systems. It is both simple to learn and satisfying to use.
Overall, Hollow Knight is a great game that offers hours of content through sheer adventure. You will discover many hidden places and paths connecting the masterfully designed map. The game deserves to be played at least once by everyone.
19. The Witcher 3 Wild Hunt
Developer & Publisher: CD Projekt Red
Release Date: May 18, 2015
Single-Player or Multi-player: Single-Player Game
CD Projekt Red had the whole world anticipated in 2015 as they released Witcher 3 The Wild Hunt, the game that had a massive cult leading up to it, and it delivered way more than expectations could demand. With multiple GOTY awards under its belt, even in 2022, it solidifies itself as the best Open World Adventure RPG game of all time.
Players once again reprise the role of Geralt of Rivia, the central protagonist of the Franchise. This time Geralt is on the search for Yennefer as well as reuniting with his daughter, Ciri to stop the evil Eredin, King of the Wild Hunt, and forces of evil from conquering the lands. Most Importantly, The Death March Difficulty will test your true strengths in battle so it'd be wise to equip the Best Runewords and Steel Swords before you tackle it.
The game has aged like fine wine as the visuals are still as breath-taking as ever, and the world-building is perfect in every single way. More often than not, you will constantly be lost partaking in numerous side quests and activities like Gwent out in the world, which is extremely rich in quality, just like the main quests of the game.
18. Cyberpunk 2077
Developer & Publisher: CD Projekt Red
Release Date: December 10, 2020
Single-player or Multi-player: Single-player Game
After seemingly constant delays, Cyberpunk 2077 launched worldwide to an overall mixed reception but CDPR managed to bounce back after recently implementing the Version 1.5 update, which helped iron out most major issues. The game is about your custom-created character V, as they journey to become the Legend of Night City.
Before you even begin your chaotic adventures in the world, you will have the options to choose between the extensive Lifepaths in Cyberpunk 2077, which alter your prologue and V's origins. Choose carefully as you can also get to witness a different side of Jackie Welles, V's best friend and partner in crime.
Night City is filled to the brim with activities to do and gigs to hunt and complete. The customization options are endless, as you can go from equipping the Best Legendary Armor to grinding and purchasing the Best Skills to boost your combat potential in the game. The storytelling is something that deserves more appreciation which you can learn more in-depth through our Review on Cyberpunk 2077.
17. The Last Of Us 1 And 2