Tech-focused venture capital firm Andreessen Horowitz is leading a seed round to back development of a new interactive game utilizing blockchain technology by CCP Games.
Iceland-based CCP, the creator of Eve Online, the popular sci-fi massively multiplayer online (MMO) role-playing game, said it will receive $40 million to develop the new title.
Joining Andreessen Horowitz in the funding round are Makers Fund, BITKRAFT, Kingsway Capital, HASHED, Nexon and others, CCP said in a statement.
The new game will be set within the Eve Universe, the company said. Launched in 2003, the unscripted role-playing game Eve Online has roughly 9.59 million players, per MMO Populations, which tracks the genre.
"Since its inception, CCP Games' vision has been to create virtual worlds more meaningful than real life," said CEO Hilmar Veigar Pétursson. "Now, with advancements made within blockchain, we can forge a new universe deeply imbued with our expertise in player agency and autonomy, empowering players to engage in new ways."
The project will leverage smart-contract blockchain technology, and allow for "truly open third-party development to create a new relationship between virtual worlds and players," the company said.
"The depth and nuances of Eve have become a frequent point of reference in blockchain gaming and we are therefore thrilled to support the team's impressive vision of expanding the Eve Universe utilizing this technology," said Makers Fund Principal Alli Óttarsson.
CCP Game Director Sæmundur Hermannsson is leading the development team.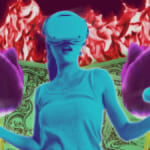 Andreessen Horowitz, which refers to itself as "a16z," said in a statement it has spent a lot of time with Pétursson in the past year "and came away impressed with his thoughtful approach to web3, his experience running CCP through multiple business cycles, and his pragmatism as a veteran entrepreneur and studio leader."
"Hilmar has been on the bleeding edge of blockchain gaming since 2017 – long before crypto was mainstream," the statement said.
General Partner Jonanthan Lai said, "They're a veteran team and we believe in their ambitious vision to deliver incredible player experiences at the intersection of best-in-class game design and blockchain technology."
Founded in 2009, a16z has backed hundreds of companies across a range of sectors, including Airbnb, Facebook, Slack, Pinterest and crypto platform Coinbase. Its active portfolio includes development platform Alchemy, media outlet BuzzFeed, online hangout Clubhouse and dozens more companies.
"The team has already made great progress in product development and we've been very impressed by the playtests thus far," Andreessen Horowitz said in a statement.
"Together, we share the belief that player ownership and governance within an open platform can be a key source of fun that serves to amplify great gameplay and captivating game design."