Apple Arcade subscribers usually get a new game every Friday, but it's been a somewhat slow year for the service outside of those promised weekly updates. As we ramp up into the spring and summer gaming season, though, Apple's keeping pace in its gaming ambitions by announcing 20 new games for the service. Among them are the next Teenage Mutant Ninja Turtles game, a follow-up to the comedy game What the Golf?, and a sustainability-focused city builder from former Sim City developers.
Favorite Vampires in Media | Jacob Anderson & Sam Reid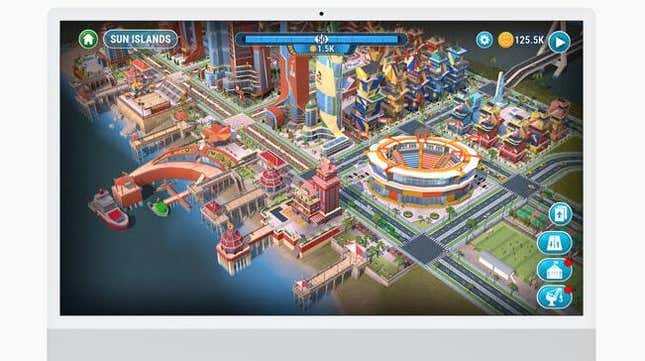 Cityscapes: Sim Builder
Coming from ex-Sim City devs, Magic Fuel Games' Cityscapes: Sim Builder is an Apple Arcade exclusive that has a lot of that series' DNA in it—but with a modern sensibility. It's got mobile sensibilities, with touch controls that felt plenty comfortable in my time with it and a campaign mode focused on tackling bite-sized challenges for various mayors across multiple cities. There are also citizen requests to handle and the ability to really focus on just a single city, but one of the key conceits here is "sustainability," as you'll have to build parks and green spaces to manage pollution generated by your other buildings, as well as have some degree of walkability to keep your citizens happy. Think of it like a more traditional take on similar ideas to those in Netflix's critically acclaimed Terra Nil, which focuses entirely on transforming barren wastelands created by human settlement into balanced ecosystems.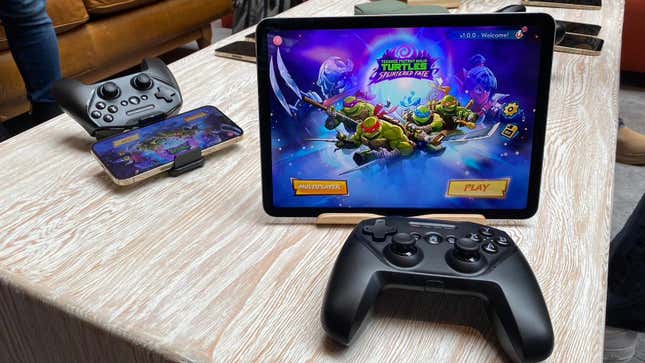 TMNT Splintered Fate
TMNT Shredder's Revenge, last year's throwback to the arcade games of the '90s, injected fresh lifeblood into the Turtles' gaming ambitions, and now we're finally getting the next game in the series. Splintered Fate is a different approach, an Apple Arcade exclusive with a top-down camera and a Hades-style roguelike approach. Players guide the Turtles through Manhattan in procedurally generated levels in a quest to get Splinter back after he's mysteriously gone missing, and each one has a number of special moves that can be activated with the tap of a button and can combo together—for instance, one turtle could set an enemy on fire, while another turtle uses a move that does extra damage to blazing enemies.
The game's fully voice-acted, with actors like Yuri Lowenthal (Insomniac's Spider-Man games) and Roger Craig Smith (Sonic the Hedgehog) portraying the turtles. Other characters, like April O'Neil and Shredder, are also promised to be making appearances. While the game itself isn't necessarily set in IDW's comic universe, a developer told me that it pulls heavy inspiration from it, with Tom Waltz having helped pen the story.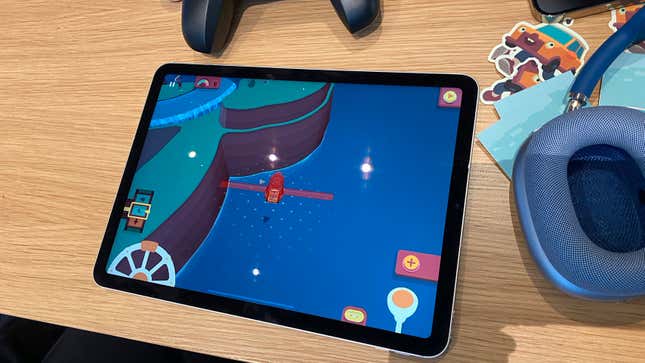 What the Car?
What the Car? is a follow-up to 2019's What the Golf?, which launched on Apple Arcade before moving to other platforms. Like that game, it's a comedic spin on a well-established genre, with the devs now tackling racing games. Players play as a car with legs across the game's levels, which each add goofy modifiers to the idea of a racing game, such as "Car but wide," and "Car but with a jetpack."
There's also a new level builder, which should help the game's longevity, as players can easily build new "tracks" to share with each other online. A hub world also helps tie the levels together and lets players interact with the game's many inexplicable but very cute bears.
Disney: Spellstruck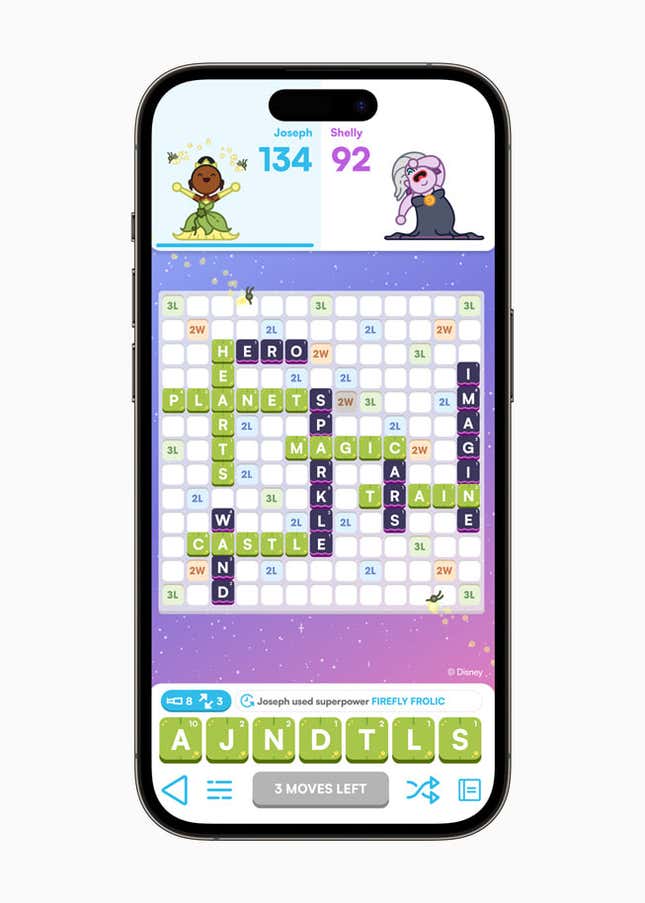 I didn't get a chance to try this one personally, but Disney: Spellstruck is a crossword-style game in the vein of Scrabble, where players help Disney characters who have been corrupted by a Stitch-like imp named Blank. Players can collect and play as their favorite Disney and Pixar characters in a campaign of bite-sized puzzle challenges, a more traditional full board, and a versus mode that lets them play with friends and family.
---
In addition to the above four titles, 16 games are being updated for Apple Arcade with + versions that strip out any sort of in-app purchases. These include:
Chess Universe+
Disney Coloring World+
Disney Getaway Blast+
Farming Simulator 20+
Getting Over It+
Hill Climb Racing+
Iron Marines+
Kingdom Two Crowns+
Limbo+
My Town Home – Family Games+
Octodad: Dadliest Catch+
PPKP+
Snake.io+
Temple Run+
Time Locker+
Very Little Nightmares+