Dead Island 2 is the co-op zombie shooter many of us have been waiting for, and it's about time it finally released. As ever, bashing in the brains of zombies is more fun with friends on board, but exactly how does multiplayer work in Dead Island 2? Is there cross-play, and is progression carried over between saves?

To see this content please enable targeting cookies.


Catch some Dead Island 2 gameplay right here.
Well, co-op in Dead Island 2 has a mixture of pros and cons, but we'll let you be the judge of it. In this guide, we detail how to play multiplayer in Dead Island 2, as well as everything you need to know about cross-play, cross-progression, and competitive play.
---
How to play Dead Island 2 multiplayer
Jumping into a multiplayer game in Dead Island 2 is easy enough. First things first, all those hoping to join will need to have completed the games' prologue first.
This means starting a new game and going about things solo until the co-op pop up appears after leaving Emma Jaunt's mansion to head to the Halperin Hotel.
After that, the player you've chosen to host the game will need to access the online options in their settings. From here, change from 'single-player' to your preferred way of playing multiplayer; make your lobby public, friends only, or invite only.
For the smoothest experience, make your lobby invite only. Then, invite your friends via the platform you're playing on, be that Xbox, PlayStation, or Epic Games Store. You can play in groups of 3 at a time. Happy hunting!
If you're looking to host a multiplayer game later on, long after the prologue, you'll be able to choose whether you want a single player or multiplayer lobby whenever you continue your game from the main menu screen. Then, invite friends as needed!
It's also worth noting that those playing on PlayStation 4 and Xbox One, at the time of writing, cannot host co-op lobbies. These must be hosted by players on PlayStation 5, Xbox Series X/S, or one of the Generation 8+ consoles, such as the PlayStation 4 Pro or Xbox One X. This doesn't affect PC players.
Does Dead Island 2 have competitive multiplayer?
At the time of writing, there are no competitive, ranked or PvP modes of multiplayer in Dead Island 2. All that players can do in multiplayer is play co-operatively, taking on hordes across HELL-A and completing quests together.
Does co-op progression carry over in Dead Island 2?
Co-op progression in Dead Island 2 does carry over, to an extent.
For example, if you join your host and play up until you have completed the eighth quest, you can return to your single-player save with all your EXP, loot, and weapons intact. This is only, however, if you are up to or past that point in your own single-player save.
On the other hand, if you're only up to the third quest, and the person you want to join is on the eight quest, you won't be able to join them. You must either catch up to them in your own single-player save, let them join you, or start a new game.
Dambuster has implemented co-op in this way so that players can't skip any story beats or rush ahead to the end of the game. In addition, any trophies or achievements you unlock are yours for the keeping, regardless of who's hosting the game.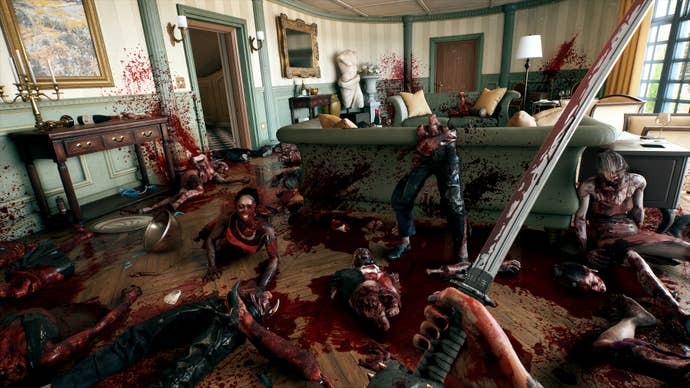 Does Dead Island 2 support crossplay?
Dead Island 2 does not support crossplay between consoles and PC. It does, however, support cross-generation play.
This means that those playing on PlayStation 4 will be able to party up with PlayStation 5 players, and those using Xbox One can play alongside Xbox Series X/S players.
On the other hand, PC players won't be able to squad up with those on console, and Xbox players can't slay alongside PlayStation players.
---
For more on Dead Island 2, take a look at our review of the game, and some tips and tricks for getting the most out of HELL-A.