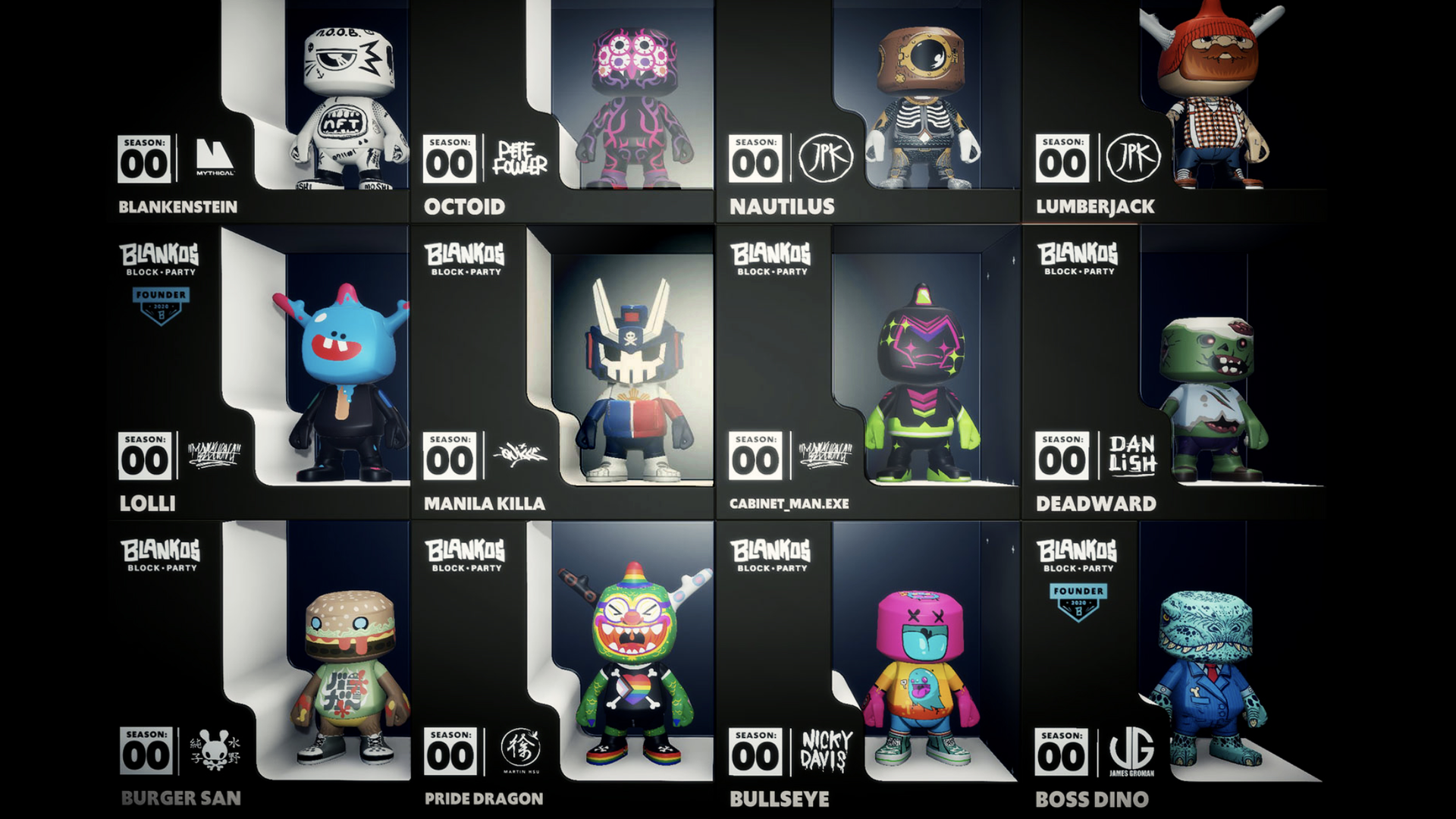 Blankos Block Party. Screenshot: Mythical Games
The next 12 months will show whether blockchain games have sufficient drawing power on the Epic Games Store, one of PC's largest online gaming marketplaces.
Why it matters: For all their funding and fanfare, crypto-based games have been blocked from or kept off most traditional gaming marketplaces. That has left the store run by the makers of Fortnite as one of their largest proving grounds.
Driving the news: Epic's store has five crypto games in its marketplace now and "close to 20" in the pipeline, Epic's store GM Steve Allison tells Axios. None are made or published by Epic.
The marketplace's first blockchain game was Mythical Games' Blankos Block Party, a social multiplayer game, which debuted in Epic's store in September.
Epic isn't sharing usage stats, but Allison said the game is "pretty well-played" and noted that another crypto game on the shop, the metaverse platform Core, "does pretty well."
What they're saying: Allison expects more crypto games to roll out on the Epic Games Store this year and into early 2024, "and then we'll really know" what the scene's future will be.
Be smart: Crypto games have primarily emerged from new game developers and publishers (with some traditional game dev star power joining the ride) but have drawn deep suspicion from many traditional gamers and industry players.
The promise of crypto games is that they contain digital assets, in the form of non-fungible tokens (NFTs) that players can purchase, own and sell, ostensibly allowing users to profit from playing.
But skeptics say many of the games in the scene are scams and simply not fun or interesting to play.
Steam, the leading PC gaming store run by Valve, barred crypto games in late 2021. Valve co-founder Gabe Newell later told Eurogamer the scene around them was "sketchy" and rife with fraud.
Yes, but: Epic founder Tim Sweeney, who presents his shop as a needed rebellion against standard online marketplaces, says there's another way of looking at this.
"Let's just be honest about what was really happening there. The other stores aren't blocking crypto games because they think 'crypto' equals 'bad,'" Sweeney said of marketplaces like Steam. Meanwhile, he maintained other marketplaces still "distribute all kinds of bad stuff."
"They just want to collect their 30% fees and they're blocking everybody who doesn't go along with it."
Between the lines: Epic is still keeping a safe distance from most financial aspects of its store's blockchain games.
Crypto games' publishers are responsible for transactions, customer service and dealing with refunds and fraud, Allison says.
But Epic's trust and safety team is watching, he says: "If there's any bad behavior, we are going to be very swift to shut that down."
Sign up for the Axios Gaming newsletter here.