We all deserve a bit of downtime and relaxation—and for many of us, gaming is a major part of that. No matter whether you're playing on PC, console, or mobile, you don't necessarily have to pay very much at all, if anything, to find some top-quality games. From the Epic Games Store to iOS, you can get to free games or games that are heavily discounted with a few clicks or taps, if you know where to look.
Find the Best free and cheap games on PC
If Steam is your PC gaming platform of choice, head to the free-to-play section of the store via the left-hand navigation menu on the web or in the desktop client: Here you'll find all the games that can be installed and played without paying anything. Alternatively, pick Specials from the navigation menu to see games with big discounts. More options can be found on the free games section of SteamDB and the r/FreeGamesOnSteam subreddit. It's not uncommon for big Steam games to have "free weekends" that let you temporarily get full access to them, so keep an eye out.
Download the Epic Games Store, and you'll be able to claim at least one select free game every week and keep it forever. And don't be fooled: these are games that would otherwise cost your hard-earned money. More standard free-to-play games are also available from the same page, as well as games that are free for only a set period of time. You can also see the games that will be made free in the coming weeks. You can also select Browse and then Discounted under Price on the right to see games that are on sale.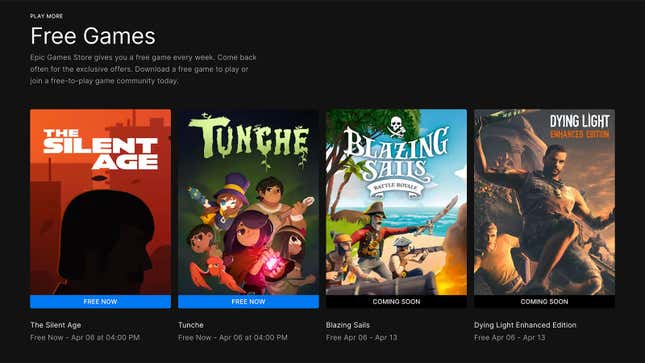 G/O Media may get a commission
More generally, Indie Game Bundles does a very good job of tracking free games available for PCs, and it covers a whole host of genres and different game stores—it's a site well worth keeping tabs on. Along similar lines is GOG, which is constantly running deals and offers, and lists games that are currently discounted right at the top of its store home page. To see more discounted games, choose Store and then On sale now.
There's also the Humble Bundle site, which offers time-limited collections of games on a pay-what-you-want basis: Part of your money goes to charity, and there's an ever-rotating roster of game deals and discounts for you to take a look at. Sign up for the Humble Bundle newsletter to get updates and announcements straight to your inbox. You can also choose to pay $12 a month for a Humble Choice subscription, which includes a regular mix of titles for you to play.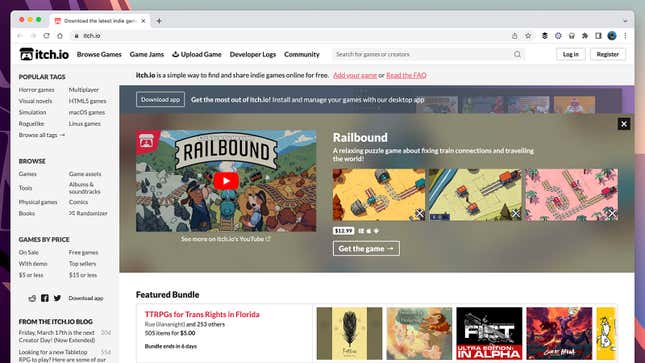 Another resource that's well worth mining is Itch.io, which focuses on indie games: From the front page, you can click the Free games and On sale links on the left to find games that are free or currently available at a discount. We'd also recommend keeping an eye on the front page of the store as well, where higher quality featured games and curated picks often get shown off.
There are yet more ways to find free games for the PC, such as the r/FreeGameFindings subreddit, which covers some of the resources we've already mentioned. If you're more interested in older titles, then check out My Abandonware, which is currently hosting more than 20,000 older titles that are no longer being developed or supported.
Find the Best free and cheap games on consoles 
When it comes to the current gen consoles from Sony, Microsoft, and Nintendo, you can easily search for free-to-play games (which will often have paid-for content attached) in their respective stores. Another option for paying less for games is to subscribe to the PlayStation Plus (from $10 a month), Xbox Game Pass (from $10 a month), or Nintendo Switch Online (from $4 a month) plans, all of which include access to a large library of titles.
If you've got yourself a PlayStation 5, open up the PlayStation Store and you'll see there's a Deals heading right at the top that you can switch to if you want to check out games that are currently discounted. Back on the Latest page, scroll all the way down to find the Free-to-Play section—you might well come across a number of free-to-play titles as you're moving down the page. On the Browse page, there's also the option to filter titles by specific prices, which can be helpful.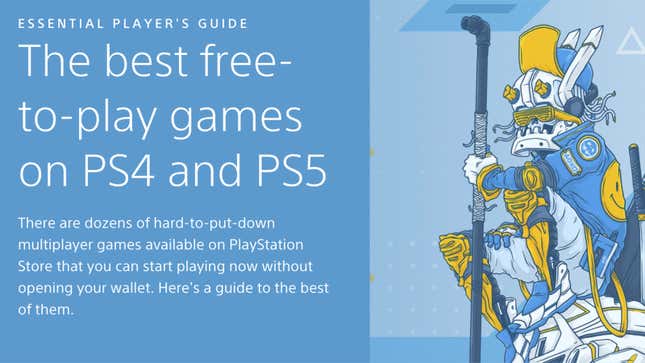 Meanwhile, head to the Store section on your Xbox Series X or Xbox Series S and, straight away, you'll see a selection of games on sale. Choose Deals for more of the same, or select Games from the navigation bar on the left and then Top free games to see the top free-to-play titles on the Xbox platform. You can sort through the titles based on genre, age rating, number of players, and various other criteria, if you need to.
As for the Nintendo Switch, if you open the Nintendo eShop from the front screen, you should see a Great Deals option on the left—head here if you want to see games that are discounted. Alternatively, choose Search/Browse, then pick Price Range, then scroll down to the bottom to see the free selection. Follow the View More link to see everything on the eShop that's currently free.
Find the Best free and cheap games on mobile 
If you're after a truly portable gaming experience, then you can find free and cheap games for your mobile devices, too. A lot of games on Android and iOS are supported by advertising, which means you don't have to pay anything to download and play them (though optional in-game purchases are usually offered at the same time).
If you're an Android user, open up the Play Store, then choose Games and Top charts: You can pick Top free as the search criteria, and narrow down the selection using the Categories menu. Select New to see the most recent entries in the list. You can also simply search for "free games" via the search box at the top—these results can be filtered by star rating, if needed. Click here to browse free Android games on the web.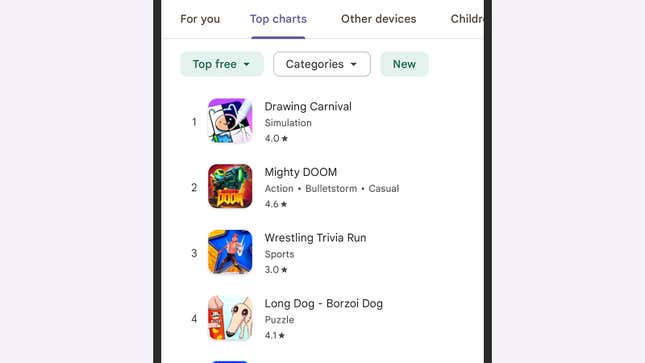 Over on iOS, open up the App Store, then select Games. Somewhere on the next screen, you should see a list showcasing the top free games, and you can tap View All next to it to see a much longer list. As on Android, you can also simply run a search for "free games" to get an extensive selection, with genre filters displayed at the top.
Like Sony, Microsoft, and Nintendo, Google and Apple have put together subscription deals you can sign up for to get access to a wide selection of games for a flat monthly fee. Google has Google Play Pass, and Apple has Apple Arcade: Both these subscription plans are going to set you back $5 a month, but you only have access to the games in these libraries for as long as you keep paying. Similarly, Netflix actually includes mobile games in your subscription, and seems to be looking to let you play them on TV soon.
---
Want more of Gizmodo's consumer electronics picks? Check out our guides to the best phones, best laptops, best cameras, best televisions, best printers, and best tablets. And if you want to learn about the next big thing, see our guide to everything we know about the iPhone 15.