Online gaming is healthy for the overwhelming majority of children and young adults who play, but about 4 per cent are at high risk of addiction, one of Australia's leading experts on the phenomenon says.
Disengagement with education was one of the most common symptoms among the group, Dr Vasileios Stavropoulos, a senior lecturer in psychology at Victoria University, said.
"They will develop a disorder, they will withdraw, they will put on weight, they will be sleepless at night because they are committed to the gaming groups who play overseas," he said.
"They socialise with the game and they withdraw from real life and through that, progressively accumulate problems."
Stavropoulos warned that enrolling these students in a virtual school risked doing more harm than good because adolescents with gaming disorder need more exposure to real life to break their addiction to gaming.
"It's wrong because the biggest issue with gaming disorder is difficulty in relationships," he said.
"If you keep them at home they lose the possibility of developing a sense of belonging in real life."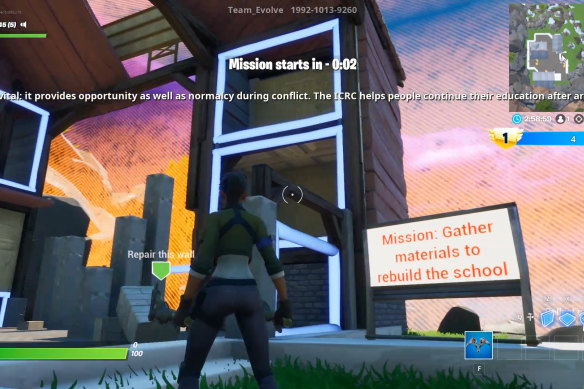 Stavropoulos predicted that diagnoses of gaming disorder would increase as children became more digitally engaged and online games became more advanced.
He also said Australia's online gaming industry was almost entirely unregulated and that the country lacked adequate support services for families needing help.
That is a finding shared by a Victorian coroner, who last year investigated the death of a teenage boy who suffered internet gaming disorder.
In October, coroner Paresa Spanos released a harrowing report on the death of Oliver Cronin, a 13-year-old Gippsland boy who took his own life while experiencing intense symptoms of gaming disorder.
Oliver, who was in his first year of high school, had been a well-liked boy with normal scholastic performance until his mental state and behaviour spiralled in the year before his death in October 2019.
He had long had an interest in games such as Roblox, Minecraft, Clash of Clans and Fortnite, but "appears to have become obsessed or addicted to computer gaming" in the 12 months before his death, Spanos found.
The coroner's report states: "His parents tried to restrict his access to the gaming devices in an attempt to temper this behaviour, but this led to an escalation in Oliver's behaviour escalating to verbal and physical abuse against his parents and extreme temper tantrums."
The coroner noted that Oliver knew he had a problem, but resisted attempts to seek professional help. She also found that Australian families had few places to turn for professional treatment for gaming disorder.
Loading
"While there is evidence about the existence of gaming addiction, its diagnosis and treatment are not well-understood or settled. Current assistance for children and families appears to be limited," Spanos' report states.
She recommended Australia's eSafety Commissioner promote the inclusion of information about gaming and psychological health in schools' digital health programs.
Spanos said the commissioner should also promote research into the prevalence of psychological harm to adolescents from online gaming.
An eSafety Commission spokesman said the link between online gaming behaviour and wellbeing "is complex and yet to be comprehensively understood".
Though problematic gaming behaviours negatively affect wellbeing, gaming might also have some benefits for children, the spokesman said.
Wherever possible, children should be empowered to make wise decisions for themselves, rather than just being told what to do.
"There is no magic number of screen-time hours, but a child is probably spending too much time playing games if their gaming starts having negative impacts on them or their family," the spokesman said.
If you or anyone you know needs support call Kidshelpline 1800 55 1800, Lifeline 131 114, or Beyond Blue 1300 224 636.
The Morning Edition newsletter is our guide to the day's most important and interesting stories, analysis and insights. Sign up here.