Since the open beta launch of Black Desert Online in 2014, Pearl Abyss has been synonymous with its flagship MMORPG.

But the Korean company has been working to grow its business, opening offices in North America and Europe, bringing Black Desert Online to consoles and mobile, and more recently announcing plans for three new games: Crimson Desert, DokeV, and Plan 8.

Speaking with GamesIndustry.biz at the Game Developers Conference, Pearl Abyss North America CEO JJ Jin explains the reason behind the push.

"Black Desert was going well, but all products have lifecycles," she says. "We believe Black Desert can go ten or 20 years like some other big MMORPGs, but we really wanted to create more interesting new IPs.

"We also believe in the power of content, so instead of bringing in third-party titles, we were just aiming to create more of our own IPs that could serve for another ten or 20 years for the company's future."

Crimson Desert's name gives away its origins as a Black Desert sequel, but Jin says the team pivoted early in development to instead give it an original storyline set in its own separate world. The gameplay will likewise be a departure from its predecessor, with heavily single-player-driven gameplay.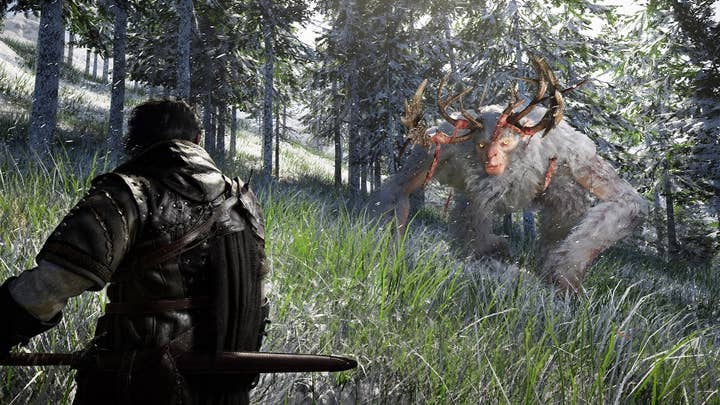 "We wanted to try something new based on the same technology we had," Jin says. "We wanted to challenge ourselves to create something better, something different, something unique, but still something that all the players globally can enjoy."

When we ask about why Pearl Abyss would lean into single-player when multiplayer games are not only increasingly popular in games-as-a-service but also squarely in the company's area of expertise, she rejects the idea of an either/or approach to games.
"We really pursue games as a community, whether it's single player, multiplayer, or a big MMO… Community exists both online and offline."

"I don't think we as a company have an in-depth philosophy about whether the [games-as-a-service] direction is better or not," she says, "but I would say we really pursue games as a community, whether it's single-player, multiplayer, or a big MMO. Games have the function to bring players together to form community around the content.

"Of course it's easier for online multiplayer games to have that community feature and achieve that goal, but I think single-player titles do the same thing in a different way. Community exists both online and offline."

The daily or weekly content updates of something like Black Desert Online work well for that type of game, but Jin notes that single-player titles can have similarly long legs with DLCs, sequels, big expansions and other updates. They have the similar effect of growing the community around the game; the difference is simply that the cadence for such additions is just a bit slower.

"These are all similar efforts, and we're trying a little bit of a different thing," she says. "It's not going to the opposite side; we think these are actually similar. We learned a lot through Black Desert live operations, and I hope we can put those insights into new titles, so that even when it's not a typical MMO, we can create some better ways to serve the community on an ongoing basis."

DokeV is another departure for Pearl Abyss, a bright open-world action adventure that draws comparisons to Pokémon and is targeting a broader audience than Black Desert.

"Most of our devs are hardcore MMORPG fans, RPG fans, and now as they get older, they tend to say, 'I wish we made games that I could play with my son or daughter.'" Jin says. "So I think there was a more personal motivation among our developers, and the theme started there."

Another goal of DokeV was to make the developers' Korean culture a little more apparent in the game itself.

"A lot of Korean developers – including ourselves – when we want to make a globally successful game, we kind of create a typical medieval fantasy world that's not actually something we're very familiar with," Jin says. "But with DokeV, we brought in some Korean folktales and culture things here and there so we can create something we know we understand really well, but still can go global."

The game's name is evidence of that, derived as it is from dokkaebi: mythical tricksters of Korean folklore that Jin compares to goblins.

Given Pearl Abyss' global aspirations with its new titles, we ask Jin if she's noticed an increased appetite in the West for media and stories steeped in other cultures. She says the addition of Korean folktales to the game was a very natural decision, but one that raised eyebrows.

"There were voices of concern that nobody would understand what it is, but then we can be the one to tell that story and make them understand because this is such an interesting story," she says.

That's not to say people didn't need to be persuaded.
"Maybe [DokeV] could sound exotic to a Western audience instead of going with Legendary Something, Glory Something, or Throne Something."

"When it came to the name of the project, to be honest, I was against the name DokeV," Jin says. "I thought it's hard to pronounce, and I will have to explain it a lot. As a person on the business side, it's a lot of work just to have people remember this title. But our devs were like, 'Hey let's try that! How cool is it that we'll be the first Korean open-world action adventure that has a very Korean name for its English title?'

"On the opposite side, I thought, 'Yeah, that could be cool. And maybe this could sound exotic to a Western audience instead of going with Legendary Something, Glory Something, or Throne Something.'"

Although Jin did have to explain the game's name to us, she keeps any exasperation around the process well hidden, and even spins it as emblematic of the company's approach.

"It started as an experiment exploring what we could do a little differently, and I think that spirit is in the Pearl Abyss DNA," she says. "We're always asking each other if there isn't something new or unique we could try. Let's not do things that everyone else already did. Let's not do things we've done before just because we're used to doing it."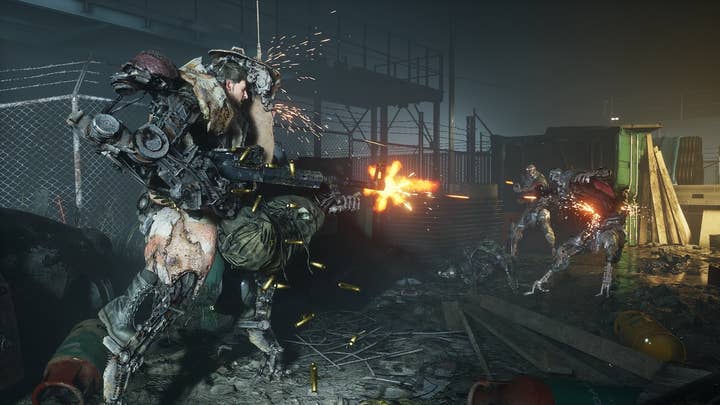 Of course, Pearl Abyss isn't the only company looking to branch out and do things differently. It's actually part of why she remains optimistic about the games industry.

"I think the market is getting very diverse," she says. "15 or 20 years ago, it was probably easier to [predict] where the market was going. Now every year we see different titles become big hits and MMORPGs that are more like a niche becoming even bigger than at launch."
"Nothing really disappears; it's more like a different landscape"

She is also unconcerned about metrics like consumer spending on games showing a decline in 2022, pointing out that they often leave out adjacent elements of the industry like YouTube or Twitch streaming.

"Whenever we talk about market trends, I always think about TV vs movie theaters," she explains. "Nothing really disappears; it's more like a different landscape. People are going to find different use cases, different occasions, different platforms for their favorite titles.

"Mobile is pretty big in Asia, but that doesn't mean PC or console games are dying. Console is actually also growing in Asia. And while there are mostly mobile game players, they find a diverse portfolio of games they're interested in playing."

She also notes that younger generations are increasingly not only picking up games, but diversifying the sorts of games they're interested in.

"They're not just sticking to one genre," she says. "Most kids are playing a couple of shooters, but they still sometimes play a strategy title or an MMORPG. I see that pattern a lot. This is requiring game companies to be smarter, and depending on who you target, you need to have different monetization or business strategies."