How does New Game Plus work in Starfield? If you can, you really should think about playing Bethesda's Starfield. It is one of the most ambitious games from the publisher and the Starfield New Game Plus mode is similar, with its own twist on the formula.
It's looking like one of the best RPG games of the year – at least according to our Starfield review – and a shoo-in for anyone's list of the best games of all time. From scope to scale, from characters to sheer content, this will be the biggest game from the publisher yet. So, you may want to play it several times and complete all the Starfield quests in the Starfield mission board.
Starfield New Game Plus explained
Starfield New Game Plus can be started after finishing the main story quest and there are multiple new game plus cycles. It resets all your progress, items, and equipment except your level and skills. For entering a new game plus playthrough you are awarded with some items exclusive to the mode.
When you sit down and think about how long it will take to beat Starfield, the idea of finishing a game this big sounds a little overwhelming. With hundreds of Starfield planets to explore, and plenty of Starfield characters to complete quests for, there's going to be a lot of content to churn through. In fact, Bethesda's Pete Hines expressed that Starfield is so big it's like "a bunch of different games" in one open-world RPG.
This information was previously revealed in a GQ interview with Bethesda head Todd Howard.
How to get New Game Plus in Starfield
During the final Starfield mission, "One Giant Leap", you are given two options: explore the galaxy further, or complete the main story. Choosing the latter will lead to a New Game Plus. Don't worry if you choose to hold off on clearing the game, you can always come back and finish the game later on.
While your skills, powers, and XP (level) will be spared, everything else will be reset. Fortunately, you won't have to play every main story quest through again, as you will have the option to skip them. This is handy for one big reason…
Starting consecutive New Game Plus playthroughs will land you more unique gear, ships, and powers. That's right, the more you replay Starfield, the more you're rewarded for your time invested. You can check out a comprehensive rundown on this from 'BlackHeart86' below.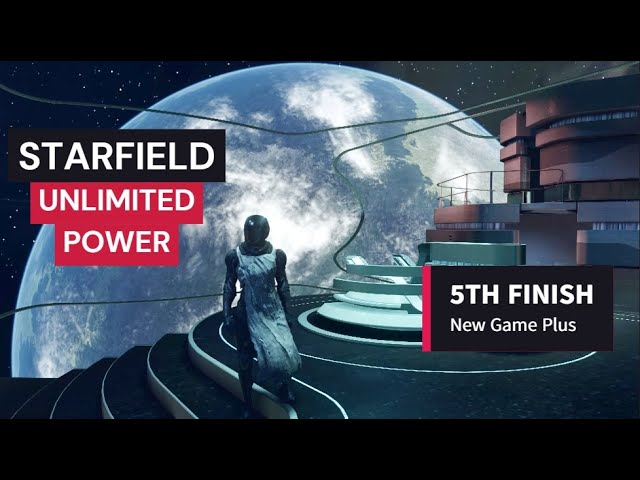 And that's everything you need to know about Starfield New Game Plus. In an effort to satiate your Starfield hunger before you reach it, why not check out what Star Wars' most iconic spaceship might look like in-game right here and why actor Al Pacino is the key to this exciting Starfield quest here.
Still looking for more? While a good Starfield wiki can be a handy source of information, our new Starfield Database goes further, offering you daily news, searchable databanks, and even interactive tools.