I think Lighting McQueen said it best when describing the feel of racing "… I am speed.", and for this best racing games on Xbox Game Pass list, I am inclined to believe him. There is this rush that you start to feel when you reach top speed. Your focus increases and your muscles tense up. From the moment you start building momentum to the very end of the race, all you want to do is to do your best and maybe pick up a win in the most thrilling way possible. That, to me, is what racing is all about.
Not all games are created the same though, and this list is more than the ones about being the first one past the checkered flag. There are multiple ways to simulate that sense of speed, through different mechanics.
Fortunately for us, racing games have been a long-time staple on Xbox and Game Pass. Here are some of the best racing games on Xbox Game Pass that'll satiate your need for speed.
Steep
While Steep is very much an open world, extreme sports game, at its core, it is about performing at your best during time trials, races, and other challenges. Steep is at its best when you're going out into the world and looking for challenges. And the areas within the game are full of challenges
If that's not enough to sell you on the game, Steep places a heavy emphasis on the online multiplayer aspect. That means you and your buddies are free to explore and have fun. Or they challenge each other to the best of their abilities.
Dirt 5
Dirt 5 varies very differently from other games in the Dirt series. Mostly because it isn't as serious as the other games. It is still very much a Dirt game but it takes a lighter approach in terms of controls. Instead of going ultra-realistic, the game opts for a looser touch that is easy to pick up and play.
The best addition to this game has got to be the injection of personality by the game's commentators/podcast duo and the interactions between two rival racers voiced by Troy Baker and Nolan North. In a world where it's all precision and timing, Dirt 5 reminds us that racing can be fun and competitive at the same time.
Dirt Rally 2.0
Dirt Rally 2.0 is undoubtedly the flip side of the same coin with Dirt 5 on the other side. With a heavy emphasis on realism and mastery of controls. the game can be seen as not very beginner-friendly. It doesn't that there are no tutorials to slowly brake in potential drivers. That all changes, however, once you have a feel for the controls and an understanding of what the game demands of you. If you love getting into the nitty-gritty aspect of race car rallies, then look no further than Dirt Rally 2.0.
Descenders
What Descenders does great, more than many others of the same genre, is its ability to instill a sense of speed. The amount of momentum you can possibly build up in this game is unreal. It's really thrilling going hill at extraordinary speeds, even if it comes with the risk of losing control. There is a kind of balancing act you have to constantly perform to get the most out of this game. You're always on edge trying to build up speed while doing everything you can to stay in control.
Lonely Mountains Downhill
Lonely Mountains Downhill details everything you need to know about the game. It is you, the mountains, getting downhill as quickly as possible. The game opts for a more blocky polygonal design but there is a certain beauty in this stylized style that doesn't get captured with realistic graphics. Gone too are distractions like soundtracks. It's just you and nature and the sound of tires over dirt. And that's kinda neat, almost meditative in a way.
And then we get to the time trials and challenges. Which is the real reason why this game is on this list. It's one thing for this game to demand you to reach the bottom in a certain amount of time or with the least amount of falls but it's completely another thing to ask players to do whole runs from top to bottom without checkpoints. Thankfully, the controls are pretty decent and you'll find yourself having more fun than not in no time.
GRiD
Let's make one thing absolutely clear, this is Grid 2019 we're talking about. Which is like a reboot of the 2008 game… I don't know what Codemasters was thinking. Oh well, it is what it is. Grid (2019) is versatile racing that allows racers to choose which end of the racing spectrum they want to play. They can choose to go as realistic as possible with the controls… or they can choose to go with a more arcadey feel like its namesake.
Grid also introduces a system in which AI drivers "remember" how you treat them in the race. Hit a car one too many times and they'll be more than happy to make sure you are on the business end of a pit maneuver when the time is right.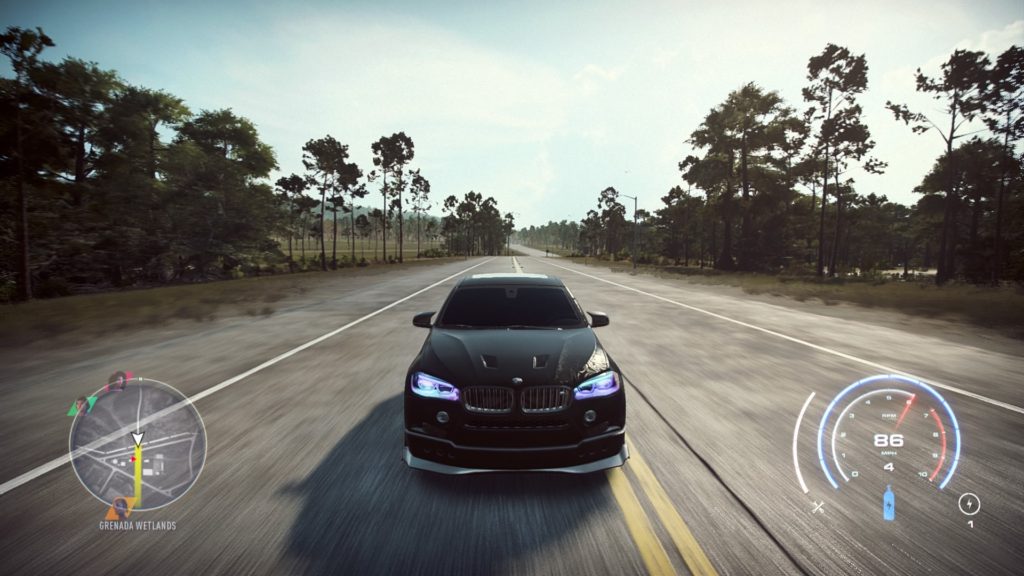 Need for Speed Heat
The Need for Speed games was in a solid decline until Need for Speed Heat reminded us once again what the series stood for – fast and fun. Bringing back elements like cop chases and built on a solid foundation of modern racing mechanics, NFS Heat is a return to form for the series.
Besides the visual spectacle of Palm City, the game's biggest draw lies in its day and night mechanics where racers take part in sanctioned races during the day and illegal street races during the night. The latter being an all-or-nothing affair with police constantly hounding you at every chance. But that's the risk we take when we wanna win big, right?
MotoGP 20
MotoGP 20 is more than just the only motorcycle racing game on this list, it is also the most mechanically demanding. The game makes no illusion about the fact that it is a no-nonsense motorcycle simulation game that demands your absolute focus as you constantly look switch from views of the track and the myriad of gauges and other statistics. Hey, some people are really into that. Needless to say, MotoGP 20 delivers the kind of experience MotoGP fans have to expect from the series.
F1 2021
F1 2021 would have been fine as another racing simulator with improved graphics and more control options as compared to previous games. The inclusion of a story mode, however, elevates the game to a whole new level fans didn't know was possible. And while it's no TV drama, the acting is serviceable from start to finish.
It is also a management sim where you can sign your favorite drivers who have raced during that season using the money you've earned in races as well the ability to invest in R&D for that all-important racing edge.
Art of Rally
Charming doesn't begin to describe this alternate world Rally racing game. Art of Rally is a surprisingly demanding racer despite looking stylish with low poly art. Clearing hairpin turns while power sliding is a feat in itself and you get this sense of achievement afterward. Contrasting the gameplay are the charming visuals that are very easy on the eyes.
Burnout Paradise Remastered
Burnout Paradise did not invent the open-world racing game genre, but it was one of the best games to ever implement an arcade-like challenge system in an open-world game. Throw in the undeniable fact that there is a level of enjoyment to be had in watching the wrecks of rival racers (and yourself) fly in the air and land as crumpled-up pieces of steel.
Things really ramp up in the fun department once you start getting to know the ins and outs of Paradise City. This comes especially handy since there are no waypoints guiding racers to the finish line most of the time.
Need for Speed Hot Pursuit Remastered
We are doubling down on the classics for our next spot. And this time, we have the remaster of 2010's Need for Speed Hot Pursuit. The second NFS game on this list but the one that many fondly remember as being an intense cops and robbers kind of game. The gameplay alternates between running from cops and running down runners as the cops.
All in all, the adversarial mechanic is what's going to hook players in. it's a different kind of objective compared to most racing games but it's all the better for it.
Wreckfest
Don't be deceived by Wreckfest's greater emphasis on car destruction. Because underneath the hood lies a serious racing game with tight controls and an adherence to realism. It's just that it is hard to look past the soft-bodied destruction races leave behind after a couple of laps.
Wreckfest takes the notion of a clean and civil race and tosses it out of the window. You are constantly going to be sandwiched and rammed off the road. It actually takes a greater amount of skill than it initially appears. Since cars are practically stacked up on top of each other half the time, knowing when to break free and when to go with the flow is a must for this game.
Of course, seeing this level of detailed destruction is always a plus in my book. And this game has it in spades.
Forza Horizon 4
Everything great about Forza Horizon 5 started on Forza Horizon 4. That's always been the case in every Forza Horizon game but the introduction of seasons cannot be understated and is now a feature that drivers will come to expect in every title moving forward.
At this point, with how good this game looks today, you can play Horizon 4 as if it's another map in the rotation. And besides, Forza's Britain looks stunning in any season.
Forza Horizon 5
Hands down, the best open-world racing game in quite a while, Forza Horizon 5 has so many activities and things to do on its already impressive map, but doing them never feels daunting in any way.
The visuals are what truly steals the show for me. The game's setting showcases the colorful and lively scenery while maintaining that look even while at high speeds. It's not a stretch to say that Forza Horizon 5 is a technical marvel. And we are very glad that it is on Game Pass.
And that's our best racing games on Xbox Game Pass. It's not the most realistic, nor the most strictly about "racing" in the normal sense but these games are all about speed. Anyways, I'm off to my next race. See you guys next time.
Check some of our listicles too if something catches your eye: