Just glancing at her, you'd never be able to tell that Elise—the red-haired protagonist in Czech-based indie studio Attu Games' forthcoming adventure game, Scarlet Deer Inn—is made entirely of real, tangible thread. In fact, every character frame in Scarlet Deer Inn is made of thread, embroidered on a machine, and then animated and pulled into the game's digital world.
Let's Talk About Gotham Knights' Predictable Ending
Eva Navrátilová, one half of Attu Games' husband-wife duo, blew Twitter's collective mind when she shared a clip of this painstaking process on April 29, receiving over five million views as of this writing.
The character Elise was a normal mom until she was thrust into a "dark underground full of monsters, and a medieval setting inspired by Slavic folklore" with only a torch to keep her alive, Scarlet Deer Inn's Steam description says. In Navrátilová's clip, she runs across a weather-beaten bridge barefoot, looking—honestly—as digital as the rest of the scene. But then the clip shifts to a close-up of an embroidery machine, the Brother PR670E, stitching a black outline around the leg of the running Elise as three other embroidered frames of animation trail to the left of it, and you realize that Elise, to a degree, is real.
Some viewers didn't get it. Does embroidery have anything to do with the game's story, or its gameplay? No, it doesn't.
Hm. And based on the clip Navrátilová shared, it seems like characters' threads are barely discernible. Isn't embroidering them a waste of time?
The animation process does require a generous helping of time. Characters are first drawn, then digitized using the software Hatch Embroidery 3. They get spit out of the embroidery machine, and then are scanned, cropped, and, finally, digitally given black defining lines and shadows, Navrátilová says on Twitter. It's glacial work made slower by the fact that Navrátilová and her husband Lukáš Navrátil, out of a small studio's necessity to do "everything [themselves]," she tells me over email, needed to learn how to embroider in the first place.
"The whole machine embroidery process is surprisingly complicated, and you need a lot of learning through mistakes before the result stops being unusable garbage," she says. "The main problem is that we have nobody to ask how to do those things, so we have to learn all of that the hard way."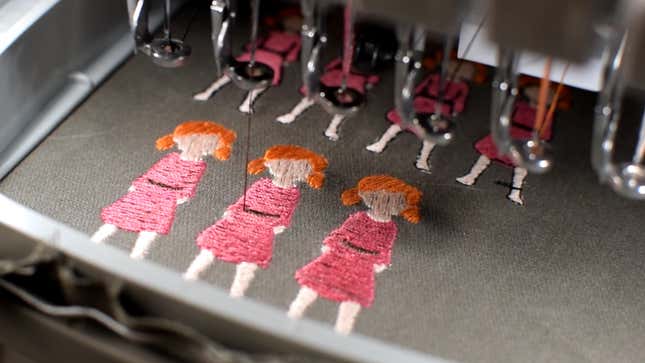 And that's in addition to the couple handling all the writing, programming, painting, and playing traditional Czech instruments, including wooden pipes and plucky galizona, for the soundtrack themselves.
So, is all of that a waste of time? Is moving patiently and deliberately for your art a waste? Maybe for some antsy people on Twitter, but not for Navrátilová.
"It could be done easily with some shaders or simply painted in [Photoshop], but where would be fun in that?" she replied to anyone encouraging her to streamline. "Tbh it's the main reason why we make games, to have fun trying different stuff."
"Even though it's so much 'unnecessary' extra work, it's really cool to work on something completely new and fresh," she tells me. And "a surprising number of people really like this crazy idea, and we are getting a lot of positive feedback. If we hadn't used embroidery for animation, we wouldn't be doing this interview now, wouldn't we?"
I'm with Navrátilová. Toiling for your art, which a video game certainly can be, in small, impractical, unnecessary but special ways is a soulful, human thing. It can feel like a novelty, now, since the basics of our lives—fast food, fashion, and entertainment—are always a phone screen and credit card PIN away. But, to really make art, "you have to be grimly determined," novelist American William H. Gass told Bomb Magazine in 1995. You could never completely rely on software or AI to absorb the personal, artistic process, which can take up weeks and years of your life, since technology has infinite time, and we have more at stake.
Scarlet Deer Inn, whenever it's finished, will hopefully feel like a rough little pearl molded by Attu Games' time-consuming, very human work. It does not yet have a release date, but you can wishlist it on Steam.